Bipartisan relations: James Carville and Mary Matalin writing a new memoir together
Married pair will take us "home again"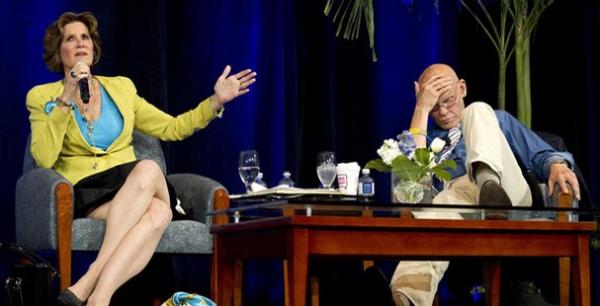 Husband. Wife. Father. Mother. Democrat. Republican. Co-authors.
The marriage of political strategists James Carville and Mary Matalin has long enthralled both political wonks and regular people who find that marriage is hard enough without the added pressure of not only being diametrically opposed to their mates in terms of personal politics, but in professional ones as well. Now the pair are set to shed a little more light on why their union
does
work, and how two people who make a living by publically opposing each other can still have a healthy marriage and two happy kids, even twenty years down the line. 
The Washington Times
reports that the couple have recently inked a deal with Blue Rider Press to pen a joint memoir currently titled  "You Can Go Home Again." 
Blue Rider cheekily describes the couple as "the nation's best-known, most annoying, intensely rabid, romantically mismatched, and provocative political couple." The memoir will reportedly "be written in two alternating and distinct voices" by the pair, and it will mix both professional and personal stories and triumphs. Matalin herself commented, "The heart of the book will be insights on culture and politics from two unique perspectives: Mine counterbalanced by one that is opposite and wrong." Carville added in, "I love my wife, my family, LSU football, the Nats, the Saints and politics. In this book I'll talk about 4 of those 6 things I'm an expert on."  They really are quite the pair, aren't they?
The couple previously penned the 1993 release "All's Fair" together.
 "You Can Go Home Again" is due to hit shelves sometime in 2014.