Monsters U games scare up fun
Disney releases game app for iOS and Android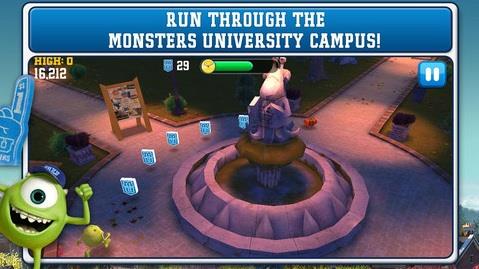 Monsters University cleaned up at the box office this week, scaring up $82 million and leaving Brad Pitt's World War Z in the dystopian dust with $66 million. You can keep the Pixar magic going on your phone or tablet, as Disney has released two mini games via a mobile app for iOS and Android.

Catch Archie has you (as Mike, Sully or Squishy) running in hot pursuit after the Scare Pig that Sully stole from the rival school. Run through campus, dodging and jumping over obstacles. When you catch up to the Scare Pig, you tap him to jump on him and ride him for the remainder of the current game board (there are 30 stages). Who doesn't have dreams of riding a pig? Maybe that's just me.

In Toxicity Challenge, users can again pick their character but this time, you are dodging pink "stinging glow urchins" (toxic to the monsters in the same way toys are in the films) as you run through the sewers as part of the Scare Games. You can hit the urchins three times before you're out. When you hit one, it attaches to you like a leech, slowing you down temporarily.

The app is priced at $0.99 and includes both games. Kids will find it easy to play and adults will be challenged by the advanced game boards. Down the road, Disney plans to update the app with new games and characters. Monsters University is available in the App Store and Google Play; you can also sample a few of the beginner game boards from Catch Archie for free on iOS.

You can download Monsters University from the App Store and Google Play. If you're not interested in paying for a download, or just want to give the game a try, the first 10 levels of Catch Archie are also available as a free download for iOS.