Novelist Claire Messud forced to explain literature to Publishers Weekly
In doing so, she becomes the heroine of writers everywhere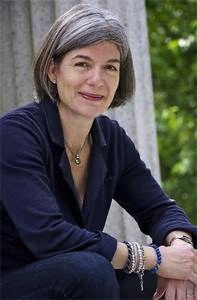 Claire Messud is suddenly the kick-ass heroine of the literary world, particularly the part of the literary world that cares about the way women writers--and characters--are handled by the media. To become so, all she did was state the obvious about her new novel
"The Woman Upstairs"
with precision and passion. She took no prisoners during a really dopey interview.
Here's what happened. Messud participated in a strangely short Q&A with Publisher's Weekly. The
version online includes just two questions
(although maybe Messud pulled off the proverbial mike after the offending question; we wouldn't blame her). The first was "What are we to make of Nora Eldridge, the betrayed, middle-aged woman of your new novel? Because she is angry, really angry."
Nora, a third grade teacher who harbors dreams of being an artist when she's not wiping snotty noses and dealing with recess bullies,
is
angry. She states it throughout the first seven pages of "The Woman Upstairs" with the kind of outraged eloquence that may make many other middle-aged persons (of both sexes), go to their windows and shout into the night "I'm mad as hell and I'm not going to take it anymore." Some of her powerful rage has to do with being lonely and single at mid-life and making nice the way women do. But more of it has to do with feeling cheated out of life's promise; the reality is sinking in for Nora that her gravestone is more likely to say good
teacher/daughter/fri​end
instead of Great Artist. I'll let Nora explain.
Really I'm angry because I've tried so hard to get out of the hall of mirrors, this sham and pretend of the world, or of my world, on the East Coast of the United States of America in the first decade of the twenty-first century. And behind every mirror is another fucking mirror, and down every corridor is another corridor, and the Fun House isn't fun anymore and it isn't even funny, but there doesn't seem to be a door marked EXIT.
I don't know how anyone can read even just those first seven pages and be confused about what to make of Nora Eldridge. She's disappointed by life and as the book unfolds, the reader quickly realizes she's crushed by something that went wrong with a new friendship that she felt might save her, or at least point the way out of the Fun House. The book unfolds as a mystery about that relationship.
Bing: More on Claire Messud
Publishers Weekly's interviewer, Annasue McCleave Wilson, then moved on, but only by about a centimeter, to this question: "I wouldn't want to be friends with Nora, would you? Her outlook is almost unbearably grim."
Messud replied: "For heaven's sake, what kind of question is that? Would you want to be friends with Humbert Humbert? Would you want to be friends with Mickey Sabbath? Saleem Sinai? Hamlet? Krapp? Oedipus? Oscar Wao? Antigone? Raskolnikov? Any of the characters in The Corrections? Any of the characters in Infinite Jest? Any of the characters in anything Pynchon has ever written? Or Martin Amis? Or Orhan Pamuk? Or Alice Munro, for that matter? If you're reading to find friends, you're in deep trouble. We read to find life, in all its possibilities." Find the
full response here (it's worth clicking)
.
She had me at Oscar Wao, who I definitely don't want to be friends with.
As the literary stink unfolded,
Salon took PW to task
for asking a question that "might not be posed" to male writers in the same way. The author and book critic
Meredith Maran
, whose debut novel
"A Theory of Small Earthquakes"
features a heroine who isn't always "likeable,"
came forward with an essay
about how female writers are often pressured to make their heroines more sympathetic. Poets & Writers made note of the debate. And meanwhile, McCleave Wilson posted a link to the Salon piece on her Facebook page with this comment.
Don't worry about the "poor reporter." The fact of the matter is that Messud and I had a much more expansive conversation about why readers read and why writers write, and it came down to the deep desire of both to explore literature in order to learn how to live. It's absurd to parse the question as Salon did, in terms of gender. I'm sorry to disappoint you, but gender never crossed my mind. The fact is, the question generated an instructive and enlightening response.
Later, she posted this, which suggests she just didn't like "The Woman Upstairs" (it's intense and I loved it, although I could see how people of a certain uncertain age would be turned off):
How absurd that Salon suggests that is a question that "might not be posed to a male author." Why ever not? While I don't read to find friends, nor simply to find life, I DO read to learn how to live. All the unpalatable characters Messud sites teach one how to live; Nora is simply self absorbed and pissed.
I would hate to be judged on grammar and spelling on my Facebook page, although if I am in any kind of literary scuffle, I do try to watch my Ps and Qs. Like, spelling "cites" correctly (it's not "sites" unless we're talking about say, where that archaeological dig is.) And at the same time, I have asked some dumb questions in interviews, sometimes out of nervousness, sometimes just because a softball question is a good way to get a ball rolling, conversationally. But two in a row? The other thing is, you have to prepare for an interview with Claire Messud, who happens to be married to the literary critic James Wood (Read all about their lives together in
this great Vulture profile by Boris Kachka)
. This isn't Nicole Ritchie. You have to ask smart questions of a novelist of her caliber. After all, she's got a lot going on upstairs.
Bing: More on 'The Woman Upstairs'