'Real Housewife' Melissa Gorga reveals her 'Italian Style' book cover
New book promises to reveal her (maybe) controversial secrets to a happy marriage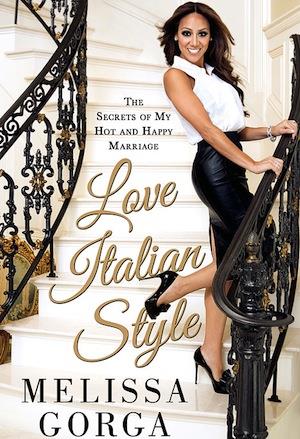 Parlaying their fame into spin-offs, endorsements, and book deals is nothing new for the stars of Bravo's "Real Housewives" series, but it's not often that one of the reality stars attempts to write a how-to guide on relationships. After all, these are ladies who spend their time backbiting each other on
nationally-televised​
programs, and are thus perhaps not the most well-equipped sources when it comes to figuring out to get along.
In her new book, "Love Italian Style: The Secrets of My Hot and Happy Marriage," "New Jersey" star Melissa Gorga vows to reveal a myriad of tips for keeping a marriage together. The book's 
Amazon page
 shares a bit more about Gorga's potentially controversial philosophy, telling us that Melissa's "overriding principle" is "treat your husband like a King. And in response, you'll be treated like a Queen." Well, how about everyone just treats each other with love and respect and we call it a day and don't assign titles to it? 
Gorga does also promise to share "the four tenets to a happy marriage are: respect, honesty, loyalty, and passion," so perhaps they'll be a bit more wisdom within its pages than that overly simple King/Queen stuff lets on.
US Magazine
debuted the cover to Gorga's new book earlier today and, well, she certainly does look happy on the cover, so maybe she
is
doing something right. The newly-minted author told the outlet that her book is packed with "practical strategies on how to strengthen their marriage, amp up the passion, and the secrets that make my marriage as sexy and hot as it is warm and loving." Frankly, Melissa, we'd rather see a "hot and happy" Italian cookbook from you, but perhaps you'll tackle that topic next.
"Love Italian Style: The Secrets of My Hot and Happy Marriage" will hit bookshelves on September 17, but you can pre-order it now.