'Revenge Wears Prada': 10 things the dust jacket doesn't tell you
Don't be fooled by the spectre of "the letter"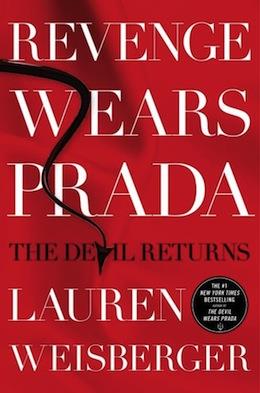 When
we last reported
on the follow-up to Lauren Weisberger's bestselling 2003 roman à clef, "The Devil Wears Prada," we weren't thrilled by the promise of picking up with Andrea "Andy" Sachs a decade on. "Revenge Wears Prada" promised to take us back into the world of publishing, with Miranda Priestly still hanging firmly over Andy's head. We bemoaned a number of elements of this plot, questioning things like, "Andy got back into a side of publishing she didn't like so much, is still afraid of Miranda, and will likely have some relationship issues thanks to her work? Nice maturation there."
The book, predictably, landed on our desk late last week. "Revenge Wears Prada" does indeed stick Andy back into the belly of the beast, but it's also packed with some unexpected twists and turns. The book's dust jacket promises all sorts of juiciness - it makes note of "karma's a bitch," "a secret letter with crushing implications," and Andy realizing that "nothing is at seems" - but that's not all exactly true. 
So why not bust open some "Revenge" myths that are a very part of its marketing? Let's do it!
To wit, the full copy of the dust jacket copy (
and official synopsis
) for "Revenge Wears Prada" tells us:
Almost a decade has passed since Andy Sachs quit the job "a million girls would die for" working for Miranda Priestly at Runway magazine—a dream that turned out to be a nightmare. Andy and Emily, her former nemesis and co-assistant, have since joined forces to start a highend bridal magazine. The Plunge has quickly become required reading for the young and stylish. Now they get to call all the shots: Andy writes and travels to her heart's content; Emily plans parties and secures advertising like a seasoned pro. Even better, Andy has met the love of her life. Max Harrison, scion of a storied media family, is confident, successful, and drop-dead gorgeous. Their wedding will be splashed across all the society pages as their friends and family gather to toast the glowing couple. 
Andy Sachs is on top of the world. But karma's a bitch. 
The morning of her wedding, Andy can't shake the past. And when she discovers a secret letter with crushing implications, her wedding-day jitters turn to cold dread. 
Andy realizes that nothing—not her husband, nor her beloved career—is as it seems. She never suspected that her efforts to build a bright new life would lead her back to the darkness she barely escaped ten years ago—and directly into the path of the devil herself...
1. Once and for all, Miranda Priestly is not the devil
She is, however, still just really mean, but no, she hasn't transformed into an actual demon when "Revenge" picks up.
2. Andy and Emily aren't just business partners now, they've also become best friends
In one of the most charming sequences in the entire novel, Weisberger details how the pair reunited in a remedial cooking class, though they were slow to warm to each other.
3. Max Harrison isn't much of a "scion"
In fact, his family's publishing empire is on its way out and he's trying desperately to save it. How nice then that he invests in "The Plunge." How interesting that he loves Andy's career. How curious that he's so intent on selling the mag off. 
4. "Karma's a bitch"? 
To who, exactly? Karma doesn't really play a part in the novel in the slightest, really. 
5. Yes, the wedding day letter is a blow 
(Let's put it this way, Max's mom isn't the greatest and she's got some nasty opinions she can't keep to herself), and Andy is consumed by its contents for quite some time, but the letter is just one piece of the "Revenge" puzzle. Don't worry about the letter. You'll read it early on and eventually forget about it, just like Andy.
6. Fine, we'll concede - eventually Andy discovers that nothing in her life as it seems, like in the last fifty pages of the book
Don't think that some big bombshells will drop early on. They won't.
7. Ah, "the darkness"
Honestly, one of the most grating aspects of "Revenge Wears Prada" is the fact that Andy simply cannot let go of her Miranda memories. She even has an anxiety dream about the woman the night before her wedding. She likens her experience to PTSD. She breaks out in cold sweats when she thinks about "Runway." Andy, it's been almost ten years, get over it. 
8. Andy and her old pal Lily are friends again! 
And Lily is happy and healthy! Finally, something nice!
9. "The Plunge" isn't the only thing Andy and Max create together...
10. Oh, and in case you were wondering, no one wears Prada
Well, save for one beloved "Plunge" writer who has her own Prada backpack...which she's decorated with puffy paint. It's not chic, not even devilishly so.
"Revenge Wears Prada" is now available.