Smartphones create light show for Brad Paisley's ACM performance
Technology mingles with the country music crowd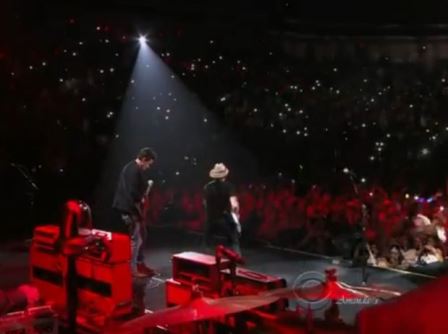 By Mark Brown
Special to MSN Music
Phones long ago replaced lighters as the thing you hold up at a concert to show you really dug the music, maaaan. And there's nothing wrong with that; better to kill off a little battery life than risk burning your fingers or setting fire to the hair of the person in front of you.

When Brad Paisley and John Mayer did "Beat the Summer" at the ACM Awards on Sunday night they took it one step further.

With a downloadable, free and non-data-using app, Paisley was able to sync those phones in the crowd to give a mini light-show as part of the performance (you can really see the phones flashing on and off in sync during the guitar solos in the song, about 2:40 into the performance).

Get used to it. According to Mashable, "synced smartphones" are the next big thing in concerts, and you'll be seeing a lot of this in arenas from here on out.


Paisley has already committed to using the app on his summer tour, though it will likely be far more useful and far more apt to turn up at various EDM shows and festivals across the world. Wham City Lights is the developer of the app; you can see a short video of the technology in action by clicking here.