Smartphones, live in concert
Yeah Yeah Yeahs ask fans to "put that s--t away"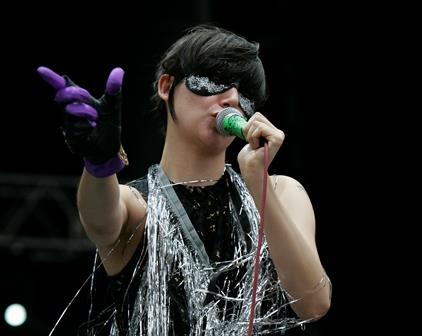 I love to listen to music, I also love to watch it being made. So I was tickled as pink as the Lightleak filter in my CameraBag app when I found myself front row at a Neko Case concert.
I almost wet myself. To make the evening even better, I was on a date with a guy I was excited about…until he pulled out his smartphone.
Yep, he started snapping photos—discreetly and without a flash, I have to say—trying to get the perfect action shot of the soulful singer. Before we left the theater, he had run his favorite through an Instagram filter, cropped it, and posted it to Facebook, tagging me in the process.
He's not the only one. I do it, too. I Instagram the hell out of my experiences. I hate it in theory, until I'm the one wanting to validate my existence (and, truth be told, make others jealous).
If a tree falls in a forest, does it make any noise? If a person doesn't take a photo of an event, were they really there?
These days, smartphones have become a fixture at concerts, with fans snapping photos or recording video of their idols. Certainly, fellow concert-goers notice this, particularly when you are holding your phone over your head in their sightline. But the performers see the phones as well. While many bands have accepted the smartphones as a necessary evil or a way to expand their reach via YouTube, some are taking action, at times politely and occasionally more forcefully.
At a recent show, the Yeah Yeah Yeahs posted a sign, asking concert-goers "PLEASE DO NOT WATCH THE SHOW THROUGH A SCREEN ON YOUR SMART DEVICE/CAMERA. PUT THAT S--T AWAY as a courtesy to the person behind you and to Nick, Karen and Brian…" To drive home the point, the band allowed photos for a few minutes into the set before asking people, in colorful language, to stash their devices. Gawker covered the story here.
What's your take on pulling out your phone at concerts? Have you done it? Will you do it again?
** Photo credit: Jeff Christensen/AP