Teen wins hackathon with Twivo app
17yo Jennie Lamere creates app to block TV spoilers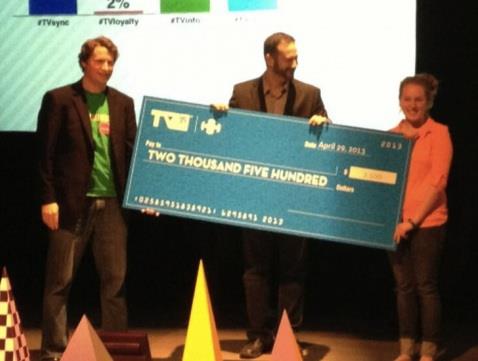 I recently wrote about my aggravation over the issue of spoilers in the age of social networking. I've come to the position that if you don't want to know about the latest Mad Men or Game of Thrones episode, you really should stay away from Facebook and Twitter, as painful as that may be. For me, part of the pleasure of watching these shows is discussing them during and after they air in real time. I have tried to respect others' delayed viewing habits, posting "Way to change the game, Matthew Weiner. Well played" instead of giving away last week's shocker. But come on, if you DVR it, you forfeit the right to complain about spoilers. Pick a lane. You don't get it both ways.
Until now.
My new hero, 17-year-old Jennie Lamere, won "Best in Show" last month for creating a Chrome app in her first solo coding competition. She beat out professional developers with Twivo, a TV spoiler blocker for Twitter. Twivo is simple but brilliant: it blocks tweets related to certain keyword(s) for a specified period of time, allowing users to stay connected on Twitter without fear of plot points from a favorite show being revealed.
Sweet.
What's even sweeter is that Lamere was the only female and only minor participating in the TVnext hackathon in Boston in April, making her that much more awesome. Her dad, Paul, is the director of developer community for The Echo Nest, which publishes Evolver.fm. Through weekly hikes with him, she learned about his latest projects, which she says seemed like pure magic.
"One hike, my Dad asked me for an idea for a hack using the Songkick API. He told me some of his ideas, but I came up with my own, that would eventually turn into Jennie's Ultimate Roadtrip. Just by chance, I was already in Boston the day of that particular hackathon, so I ended up spending a good portion of the day at the hackathon and helped my dad out with the limited HTML I knew," she said in an interview with Evolver.fm.
After tagging along with her dad, she started coding on joint projects. Twivo was Jennie's first solo hack. Let's hope it's not her last. The world needs more creative thinking and development from women and young people in general, a point made by Change The Ratio co-founder Rachel Sklar.

"It's also important to note that Jennie's idea is a completely universal, gender-neutral one—the classic entrepreneurial story of identifying a pain point and then solving for it," Sklar told Evolver.fm. "And, thanks to greater accessibilty of technology and more and more infrastructure around the innovation process, we will be seeing more and more Jennies as we move forward. In the meantime, I am stoked to use Jennie's invention to enjoy Mad Men at my own pace."
Clearly, Sklar and I are as enthusiastic about Twivo as we are about Don Draper and Peggy Olson. But I'm even more excited to tell my online friends about it so they can stop harping on my cryptic tweets, which are apparently still too revealing for their tastes. 

(photo: evolver.fm)