FEATURED POST
'The Host' creator dazzled at Hollywood premiere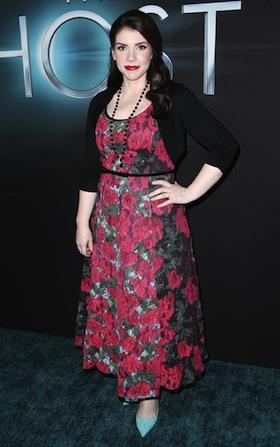 Author and creator of both the wildly popular YA sensation "The Twilight Saga" and the slightly-more-adult alien love story "The Host," Stephenie Meyer shown on the red (er, green?) carpet at the Hollywood premiere of filmmaker Andrew Niccol's take on her standalone (for now) novel. Meyer has always sported a striking look - those raven locks! those ruby red lips! - but as
People
notes, the writer looked better than ever at the world premiere of her latest book-gone-movie.
Is it the lipstick? The flowing hairdo? Those adorable shoes? Perhaps the belted dress? No, no, Meyer has clearly lost some weight here, and good for her. She looks just lovely.
"The Host" stars Saoirse Ronan as a woman torn - no, really - as she is one of the last remaining humans in a world that has been taken over by alien creatures that slip into the bodies of people and consume their lives. When Ronan's Melanie is taken over by one of these aliens, the results surprise both her and that alien (who goes by the name "Wanderer"), as Melanie refuses to just give up her body without a fight and Wanderer finds herself enjoying those remaining human impulses. 
"The Host" hits theaters on March 29.