FEATURED POST
You've got to read the Booker Prize-winner's brilliant speech about Kate Middleton et al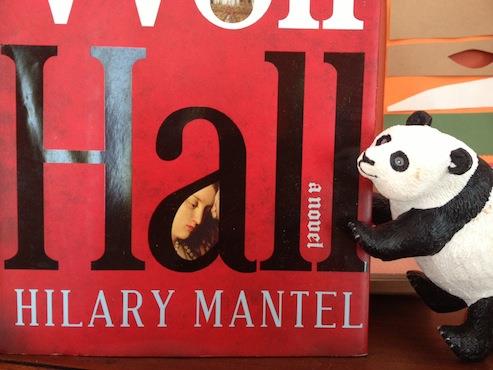 England is
up in arms
over Hilary Mantel's recent remarks about the royal family, specifically Kate Middleton, who the Booker Prize winning author of "Wolf Hall" and "Bring Up the Bodies" said "appeared to have been designed by a committee and built by craftsmen, with a perfect plastic smile and the spindles of her limbs hand-turned and gloss-varnished."
The Daily Mail called this a "venomous attack" and the Sun a "bizarre rant." Both publications, it should be said, are experts in venom and bizarre rants. Pot, kettle, black, etc.
Except that Mantel's speech--the best thing any of us will read this week--was actually sympathetic to the royals and to Middleton, who she remarked was perhaps also designed to join the Windsor fold in order to " breed in some manners. She looks like a nicely brought up young lady, with 'please' and 'thank you' part of her vocabulary."
Mantel goes on: "Kate seems to have been selected for her role of princess because she was irreproachable: as painfully thin as anyone could wish, without quirks, without oddities, without the risk of the emergence of character. She appears precision-made, machine-made, so different from Diana whose human awkwardness and emotional incontinence showed in her every gesture. Diana was capable of transforming herself from galumphing schoolgirl to ice queen, from wraith to Amazon. Kate seems capable of going from perfect bride to perfect mother, with no messy deviation."
The comments were part of a talk Mantel entitled "Royal Bodies," delivered at a February 4 event hosted by the London Review of Books. The whole speech
is available on the LRB's web site
. (It took the English publications rather a long time to freak out about the speech; maybe they were too understaffed to send anyone to hear Mantel in the flesh.) Her take on Kate Middleton is sound; who among us has not wondered at her perfection as daughter-in-law and breeder of the future heir? How is it that she can be so right, or so right-seeming, in her very easy amiability? On some level she seems the balm to sooth the national pain of Diana's unhappy existence and death (and of the various embarrassments associated with Sarah "Fergie" Ferguson) and one almost wonders, did the royals deserve to have it all work out so well, after all that? Isn't payback supposed to be a bitch, instead of an athletic sweetheart, an Ivory Girl who agreeably frolics with a field hockey stick and stands sweetly by her man in what is always the perfect outfit?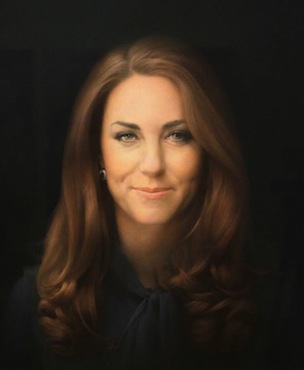 Mantel did make a little fun of the image to the right, the official palace portrait of the new Duchess, which seems entirely appropriate. What the hell? The palace will have no need to hire a painter to capture Kate again at 45, because this is what she'll look like then. Perhaps this was a cost saving measure? If any of us had any doubt about whether Kate is genuinely nice, you only have to look to her not throwing a hissy fit over this and demanding a new portrait.
Back to Mantel. As cynical as she is on the topic, the writer was hardly damning to the monarchy as a whole. I love the bit where she compares them to pandas.
"I used to think that the interesting issue was whether we should have a monarchy or not. But now I think that question is rather like, should we have pandas or not? Our current royal family doesn't have the difficulties in breeding that pandas do, but pandas and royal persons alike are expensive to conserve and ill-adapted to any modern environment. But aren't they interesting? Aren't they nice to look at? Some people find them endearing; some pity them for their precarious situation; everybody stares at them, and however airy the enclosure they inhabit, it's still a cage."
That is a fairly fond take on the monarchy, rather sweet in its very tartness. The most intriguing piece of the speech is Mantel's description of what it was like to be in the same room with the chief panda, Queen Elizabeth herself, during an event for the book trade at Buckingham Palace. Most guests studiously avoided looking at the elephant/panda in the room, anxious to appear cool, anxious to not disturb the most interesting creature in the zoo by pressing their faces up against her glass enclosure. Not Mantel.
"And then the queen passed close to me and I stared at her. I am ashamed now to say it but I passed my eyes over her as a cannibal views his dinner, my gaze sharp enough to pick the meat off her bones. I felt that such was the force of my devouring curiosity that the party had dematerialised and the walls melted and there were only two of us in the vast room, and such was the hard power of my stare that Her Majesty turned and looked back at me, as if she had been jabbed in the shoulder; and for a split second her face expressed not anger but hurt bewilderment."
Notice Mantel's own mea culpa, the fact that she was "ashamed now" to admit to her rapacious stare.  "And I felt sorry then. I wanted to apologise. I wanted to say: it's nothing personal, it's monarchy I'm staring at." She classifies the British obsession with royalty--which has leached over to its former colonies and beyond--as a form of "entertainment," allowed "in the same way that we license strip joints and lap-dancing clubs." She links all this to the life of the Tudor's, her expertise and the subject of her novels "Wolf Hall" and "Bringing Up the Bodies," and lends her sympathy even to Henry the Eighth, so often thought of as an "old monster." And then she asks her countrymen and women to be kind to Kate and the royals. "I'm not asking for censorship. I'm not asking for pious humbug and smarmy reverence. I'm asking us to back off and not be brutes."
It's actually the lack of venom, coupled with clear-headed logic and compassion, that makes this speech so great. The English tabloid press has responded like a child whose doll has been criticized, when really, all Mantel was saying was, let us all have our dolls, but be kind to them. Not give them bad haircuts or draw on their bodies or faces. You know what Mantel's  speech makes me want to do? Sit down with the copy of "Wolf Hall" I dutifully bought several years ago and have let sink to the bottom of my stack. Clearly, that was a mistake.