FEATURED POST
Book to be titled, hilariously, 'A Parent Trapped'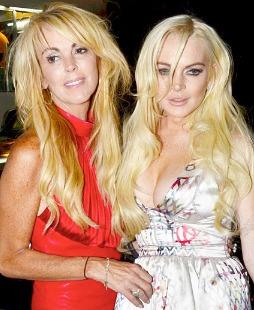 There are bad ideas, and then there are bad ideas cooked up by the Lohan family. Joining the ever-growing list of bad moves (career and otherwise) that Lindsay Lohan and her clan seem intent on completing, Lohan's mother, Dina Lohan, took to
Extra
to share the news that she's writing her own tell-all about the trials and tribulations of life in the spotlight (or, in Dina's case, life in her
daughter's
spotlight).
Bing:
Dina Lohan
|
Lindsay Lohan
Amusingly enough, Dina shares that the the book will be called "A Parent Trapped," a clever (sure?) riff on the title of one of her daughter's most-beloved films ("The Parent Trap") and continued proof of Dina's bizarrely bold coattail-riding. Lohan also shares that the book will chronicle all sorts of family drama, including her belief that she is "the most misunderstood mom in America."
Lohan also told the television show that the book will include tidbits about her relationship with Lindsay's dad (and Dina's ex), Michael Lohan, though when pressed to talk more about that on camera, she said, "I don't really want to speak about that on camera, but I've been a single mom my whole life. I've had sole custody and my other three have had no relationship with him… Yes, I feel like I'm the victim of domestic violence for years, so if I can save a life or change a lire. I want it to be a helpful book." That's right, Dina Lohan wants to write a book that will help people. That's...nice?
Other revelations from the interview include Lohan's belief that her being a single mother made Lindsay an easier target for bad people and bad things (which will certainly raise the ire of other single mothers and single parenthood households, which currently make up about 1/3 of the nation) and her desire that Lindsay herself will have kids soon (weirdly, despite the fact that Lindsay is also unmarried). We can't wait to see what other gems she provides in "A Parent Trapped."
Head on over to
Extra
to see the full interview.