Memoirist Nick Flynn's Movie Business
His new memoir is about the making of 'Being Flynn,' the movie of his last memoir. Say that 3x fast.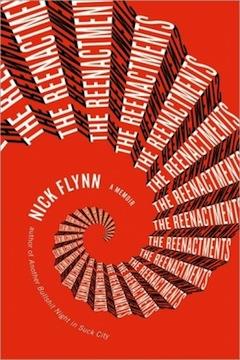 In January 2011 Nick Flynn flew from New Jersey to Boston in a private plane with Robert De Niro. De Niro wanted to meet Flynn's father Jonathan--he was just about to play him in a movie called "Being Flynn," Paul Weitz's adaptation of Flynn's memoir "Another Bull*7%$ Night in Suck City." He also wanted to see the homeless shelter where Nick had worked and Jonathan had, for years, been a "guest." On the plane ride De Niro spoke of his children, often in a voice so soft Flynn couldn't make out what he was saying. It didn't matter much since the writer was distracted by the movie playing on a loop in his head; the young De Niro of "Godfather II," shooting Fanucci. While the real man sat before him, all he could think of was one of his most famous characters.
If ever a book could truly capture at the essential weirdness of having one's life reshaped, reimagined, recreated and thrown up on a screen, it would be Flynn's newly released book, "The Reenactments." It's a memoir about watching a movie getting made of one's memoir. (Say that 10 times fast.) At the first table read, Flynn watches Julianne Moore (playing his mother, who killed herself when he was a teen), Paul Dano (playing him) and De Niro go through the script: "My disembodied family, risen from the grave, sitting around a table, laughing."
Bing:
More on Nick Flynn and "Being Flynn."
As tell-alls go, this is an intellectual one; it's secret details wouldn't do much for Page Six. There's a little Susan Sontag wrapped in its pages, some thoughts about the glass flowers and taxidermy at the Harvard Museum of Natural History, nods to other memoirs about movie making (Guy Maddin's "My Winnipeg") and snippets about the Berkeley neurobiologists studying the movies we are constantly making in our own minds. It's intense, heady stuff, part poetry, part therapy session, a loose narrative composed of quick little bursts of thought. It's also quite beautiful and in parts, even a little wistfully funny.
Only two people can play me
, Jonathan Flynn tells Weitz in 2006 when Flynn makes his first pilgrimage to visit his father with movie people in tow--
it's got to be either Dustin Hoffman or myself
. Five years later, he doesn't recognize De Niro as the raging bull, the taxi driver, the godfather or anyone at all. "He looks over at De Niro, as if taking him in for the first time.
So, you do a little acting?
My father asks.
You like to act?
De Niro smiles, shrugs: Yeah, I do a little acting." Flynn tells him this is the man who starred in "The Godfather: Part II" "The Godfather? My father echoes. That's a big deal. He narrows his eyes, takes De Niro in more fully."
When I was
reviewing "Being Flynn,"
a hard sell to audiences but filled with sensitive, strong performances and intense realism--I wondered, does this match up to what Nick Flynn would have wanted, or is some creature he no longer recognizes? Is the writer vested, or checked out and spending the money on a Caribbean vacation? "The Reenactments" demonstrates how deeply Flynn was vested. He wept when he read Weitz's first version of the screenplay (and then his wife, actress Lili Taylor, who also wept, told him it was so good it wouldn't get made in mainstream Hollywood). He was on set to answer questions about what his father drank, to hand write his mother's suicide note, to chose the right filthy parka to match the one his father wore when he was on the streets. All that good stuff that makes a movie feel right, or if you're the person who lived through it the first time, all that horrific stuff brought back to life again. Flynn processes the weirdness and the pain of it all with great tenderness.
Bing:
More on Robert De Niro
It's easy to be cynical about what "Hollywood" does in the name of entertainment, but "The Reenactments" is filled with evidence of filmmakers and actors trying oh-so hard to get it right. Knowing he might be playing a homeless man, De Niro had temporary teeth put in when his dentist was giving him implants (for work he needed done anyway) and one day when Weitz checks in with Flynn, he tells him De Niro is getting the temporary teeth pulled. In a sweetly sincere email Dano asks Flynn "Did you ever: Wear an earring? (I can picture one on my Nick, unsure if necessary)." The prop guy wonders if the blood on his movie mom's nightgown right, just the way it looked after she put a gun to her heart? Throughout it all, Flynn bears uncertain witness. There's Moore, walking by him after shooting the scene where his mother tries, and fails, to drown herself in the ocean. She murmurs something about being relieved to be taking off her wet jeans finally. And Flynn's not sure if he should, but he reaches out to hug her as she passes, the woman who is his mother but only in a movie. It's heartbreak and hope crystallized in one.