Knopf announces November release for third 'Bridget Jones,' we pre-fan fiction it
In which we project our hopes and dreams on Bridget as she nears 50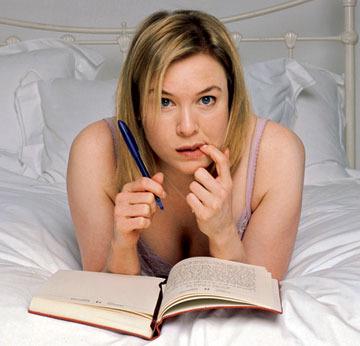 Alfred A. Knopf announced that it plans to publish Helen Fielding's new Bridget Jones book, her third, in November 2013. Horrifying math: the original Bridget Jones's Diary came out 17 years ago. I now pronounce myself (and Bridget) old.
Fielding broke the news that she was working on the book last November on an English radio program.  She's said very little about it, except that Bridget will be tweeting as well as still dieting, it will be set in contemporary London anad it won't follow the same storyline as the possibly ill-fated third Bridget Jones movie, which reportedly involves our Bridget having a baby. (I say possibly ill-fated because good old dodgy Hugh Grant has been a bit dodgy about whether or not he wants to do it--he's in, he's out, he's in again--and producer Working Title Films has copped to some kinks with the screenplay.) She also mentioned that Bridget is still dieting. Here's what she told the BBC's Woman's Hour:
"In the same way as the first Bridget book was looking at the way a 30-something single woman was branded as a tragic spinster, and then we got the new idea of a singleton, [the new book] will be looking at later phases in life when you get branded as a certain thing," she said, "and you don't have to be that at all and it's all outdated and ridiculous. I'm having a lot of fun and it's very funny and it's making me laugh. It's a bit scary bringing out another one but I'm really enjoying writing it."
I interviewed Fielding way back when the first book came out in the States. It was already the rage in England. We had tea at the Ritz in San Francisco and Fielding was lovely and way more together than you'd ever imagine the creator of our favorite mess would be. This was at a point when I was a childless singleton looking for love and was so taken with Bridget that I wrote the entire interview in Fielding's style. I had her sign my book. Doubtless, I fawned. (Seventeen years ago people.)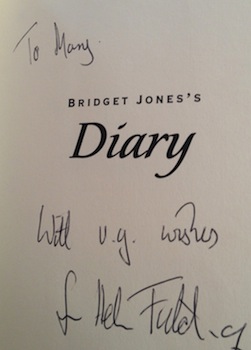 Regardless of my mild mortification at the fawning and the style imitation, I still feel some attachment to Bridget, which prompts me to imagine what the 21st century Bridget will be like. This will give me something to be mortified about in another 17 years. Or maybe 17 minutes.
Bing:
More on "Bridget Jones's Diary"
She has twins. They're about nine years old and she still has trouble telling them apart. She's named one Colin, in honor of Colin Firth of the BBC's "Pride and Prejudice," not the actor who plays Mark Darcy in the Bridget movies. The other is Willoughby but she calls him Will or in private, Wills (Bridget loves the royals of course). The boys were conceived through IVF because naturally Bridget would debate the merits of having children with Mark Darcy until the last possible moment. She considers herself a pariah among the other mothers and since she is always late to every school performance and was seen smoking in an alley near the school by the group of Smug Mommies, is probably right. The boys adore her and often mock their father for being a stuffed shirt.
She left journalism. Please. I hope she was smart enough to do this. The last we saw Bridget on the page she was being begged to come back to "Sit Up Britain" and offered the chance to write celebrity profiles by the "Independent." Near the end of book two, "Bridget Jones The Edge of Reason" Fielding actually had Bridget write "So I can be a freelance. Hurrah!" This is insanity, believe me when I say this, and I'm going to presume she wised up.
And why? Because she got rich on her own. How? She wrote a very clever diet app. Keep in mind Bridget was quantifying herself before the quantified self movement began: calories consumed, cigarettes smoked, alcohol units sucked down, negative thoughts spewed, etc. She was driven to write the app while sitting nervously waiting for various pin thin celebrities to show up for interviews and wondering if her thighs were four times the size of theirs or five. It's a little like NetDiary, but more fun, with tart and witty messages that pop up whenever the dieter enters information that indicates a diet violation (Sow. Go walk around the block). But as Fielding has said, Bridget continues to diet, which must mean her greatest fear is being caught out for not using her own million dollar app. Which is called SticksandStones (in honor of the British weight measurements, although this would give Knopf fits...how can that translate to American English?)
Bing:
More on
Helen Fielding and the third "Bridget Jones"
Her greatest achievement, other than the twins and still having sex twice a week with Mark Darcy is having sat behind the Beckhams at the royal wedding of Prince William and Commoner Kate. She was there not because of her husband's connections but because of the fame and fortune brought on by her app. This makes her very proud, but she's even prouder that at one point, Posh leaned over and told Bridget she uses SticksandStones. There will be a dinner party at some point in the book, involving Bridget cooking for the Beckhams and trying to decide which lettuce leaf Posh will prefer for her entrée.  She may also attend a fashion show with Posh, at which her skin tight Victoria Beckham dress will definitely rip and Bridget will have a hot flash to end all hot flashes.
Mark will still love her, but it will take her the whole book and many hours trolling Facebook to find out what or who Daniel Cleaver is doing to realize this. She'll also fear Mark is cheating on her with their lovely nanny, who has only heard of SticksandStones because her mum uses it.  Jude Law references will abound. Daniel Cleaver will perhaps come around for a visit and end up running off with the nanny, settling down and eventually, becoming a late in life Smug Married. It's never too late for men, as Bridget will point out. Bitterly, but with great humor.
I fear the new Bridget Jones. But is it too soon to pre-order?