Q&A with Ann Leary, author of 'The Good House'
How being a real estate junkie turned Leary into a bestselling author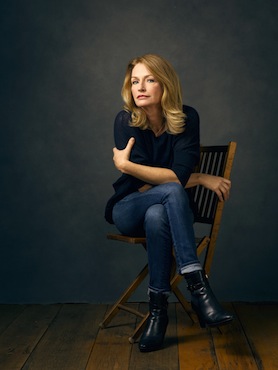 Page Turner:
"The Good House," a story that features a New England setting, small town shenanigans and an alcoholic real estate broker as its unreliable narrator, landed you on the NYT Bestseller list for the first time. What does it mean for you as a writer? 
Ann Leary (pictured, left): I wish I could say that the Times list means nothing to me.  That the writing is the most important thing; that it's all about my craft and if just one person manages to find my book and enjoy it, well that is all that counts. But the truth is that writing is a lonely business. I spent a few years writing this book, and it is very gratifying to learn that it has somehow managed to sell enough copies to make the list.  What it means for me as a writer, as my editor and friends kept reminding me that first week that it hit the list, is that from now on the words "New York Times Bestselling Author" will be attached to my name on all my books. I guess that really helps sell books. 
PT:
This is your third book (the others are "Outtakes from a Marriage," a novel, and the memoir "An Innocent, a Broad"). Did you have any sense when you were writing "The Good House" that this might be your breakthrough bestseller?


AL: Not really. I did find it easier to write than my last novel and I do think that if something really flows for the writer, it's likely to flow for the reader. The protagonist, Hildy Good, kept my interest and I did have a sense that she was a rather unusual narrator.  But no, I really didn't think that it was going to do as well as it has.
PT:
Hildy is my favorite literary real estate broker since Richard Ford's Frank Bascombe. You render a sense of the business so vividly. Do you have any personal experience in the field?
AL: I'm fascinated with houses and what they tell us about the people who live inside. Actually, I'm more than fascinated; I'm a real estate junkie. I look at online real estate the way that some people look at porn. I usually don't want to buy the homes I'm looking at, I just find it soothing to see them and fantasize about them. Several years ago, however, my husband and I considered buying a rundown house near ours. I knew the owners had many problems -- one of them was that they hoarded animals, so you can imagine the state of the place. I walked through the house with a contractor to see what he thought before we made an offer and the place was in such squalor that we kept having to go outside for fresh air. I asked the contractor, who had never met them, "What do you think is wrong with these people?" He replied, without hesitation, "They're alcoholics." I hadn't seen anything that indicated that they were alcoholics but when I asked him how he knew, he said that he had noticed lots of empty bottles hidden in cupboards, cigarette burns on the counters and other signs. Then he said, "I can walk through a house once and tell you more about the people who live there than a psychiatrist could after a year of sessions." That eventually became, more or less, the first sentence of "The Good House." I've never actually "tailed" a real estate broker, but I have a few friends that are brokers and they know I'm obsessed and will sometimes show me a great house if it comes on the market.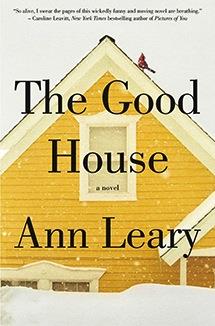 PT:
I read "The Good House" at a fevered pace (nearly missed picking my son up from school because I had 12 pages to go and desperately wanted to know what happened). Did you write at a fevered pace?
AL: Many people have commented, both online and to me personally that they read the book in one or two sittings.  I am very flattered by that, as I have a short attention span and like to read books that really pull me in.  I spent several years writing the book, but that is because I started out writing a very different book. It was originally the story about the town psychiatrist, Peter and his patient, Rebecca who have an affair. That storyline is still in the book, but at some point I discovered Hildy's character, and once she was fully fledged, I thought she'd be the best narrator, given her knowledge about her community and just her very unusual perspective -- that of a highly functioning alcoholic in denial.  Soon I realized that the book is really Hildy's story and once I understood that, the writing became much easier and I did sometimes write at a fevered pace. This happened to me with all my books.   It's always slow getting started, as I am now with a new novel, but once you understand the story and especially the tone of how the story is being told, then the writing becomes more fluid.
PT
: I understand that Wendover, the fictional Massachusetts community where the book is set, is somewhat based on Marblehead, where you spent your teenaged years. Did you spend any of your writing time physically in Marblehead or was that sense of place entirely conjured from memory?
AL: My mother and sister and her family still live in Marblehead, so I do visit regularly.  The town of Wendover is actually a little more like the towns of Essex and Ipswich, which are a little further up the coast.  These towns are more rural and horsey, and very charming, like Wendover and Marblehead.  But the people I knew when I lived in Marblehead -- the "townies"- definitely influenced me and helped me create the characters.  We live in another small New England town now, in the Northwest corner of Connecticut, and I actually used the topography of this area when describing Wendover. This area (Litchfield County) looks a lot like the Essex/Ipswich area, but without the ocean.
PT:
You your husband, the actor and comedian Denis Leary, when he was your writing teacher at Emerson. Is there any little thing (or big) he taught you in that class that stayed with you and factors into your writing today?
AL: I was a writing major at Emerson and he was teaching a comedy writing class that I took for fun and it really was quite fun because I had such a big crush on Denis. It was more of a script writing class, but he has taught me a lot about comedic timing. How not to kill a joke or be too ham-fisted with humor. This novel has very serious themes--alcoholism, depression, the economy--but  there are funny parts. Hildy has a very wry sense of humor, like lots of New Englanders I know, so I think in some ways I think I learned how to be subtly humorous from Denis.
PT:
The movie rights have already been optioned (by Jane Rosenthal of TriBeCa Productions). Do you have any dream casting thoughts? I had a vision of Frances McDormand as Hildy.
AL: I love hearing readers' ideas of who should play Hildy.  I have heard Frances McDormand as well as Glenn Close, Annette Bening, Susan Sarandon and even Helen Mirren. But of course, the one name I hear the most is Meryl Streep.  Any of these great actresses would be my dream casting choice.
PT:
Has anyone ever told you that you look like a young Ellen Barkin?
AL: No, but I'm flattered. I think she's beautiful, but mostly I'm flattered to be told I look like a young anyone.