Humorist David Sedaris says 'Let's Explore Diabetes With Owls' for his next collection
The best-selling author releases new book this spring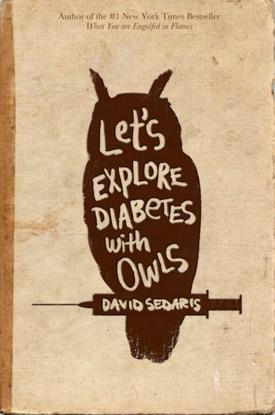 America's favorite amusing essayist, David Sedaris, will return to bookshelves later this year with a brand new collection of essays, tantalizingly titled "Let's Explore Diabetes With Owls" (oh, yes, please, let's do that right now!). The collection promises to take Sedaris' faithful readers "on a bizarre and stimulating world tour," with stories that reportedly include adventures in "French dentistry," the "eating habits of the Australian kookaburra," and "the particular wilderness of a North Carolina Costco," all told with Sedaris' trademark razor wit. With so much of Sedaris' work dedicated to the ins and outs of his family life, a book focused on taking him out of his comfort zone will almost assuredly only to lead to more hilarity (and, quite likely, a lot of confusion on the author's part).
Bing:
David Sedaris
|
'Let's Explore Diabetes With Owls'
The author's previous works include "Barrel Fever," "Naked," "Holidays on Ice," "Me Talk Pretty One Day," "Dress Your Family in Corduroy and Denim," "When You Are Engulfed in Flames," and "Squirrel Seeks Chipmunk: A Modest Bestiary." He is also a frequent guest on Ira Glass' "This American Life." Also? He's so gut-bustingly funny and observant that everyone should give his personal essays a read, at least once.
Sedaris' work was recently adapted to the big screen for the very first time, with Kyle Patrick Alvarez's "C.O.G." (based on Sedaris' personal essay of the same name) premiering just last month at the Sundance Film Festival to much acclaim. The film stars Broadway favorite Jonathan Groff as Sedaris, and it is truly a breakout turn by the unexpectedly (very) funny leading man. Hopefully, "C.O.G." marks the beginning of a flood of more Sedaris cinema.
"Let's Explore Diabetes With Owls" will hit shelves on April 23, and you can
pre-order the book on Amazon
right now.