A Katy Perry tell-all autobiography? We call foul.
For one thing, "source" is sketchy. For another, the girl seems too happy to dish on divorce.
There are "reports" that Katy Perry has a book deal, which come from some unnamed source in The Sun (total trash Brit tabloid) saying she'd getting 2 million pounds (or maybe dollars, that's how shady this news is) for an autobiography that will reveal all about her marriage to Russell Brand and her current romance with John Mayer.
Here are 4 of the approximately 47 reasons I believe these reports to be nonsense, at least at this time.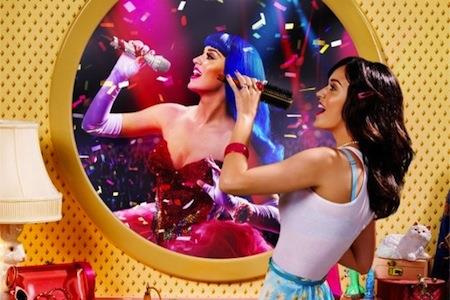 1.    If you were a publisher, in the business of making money, would you not want to share this news immediately? While her movie "Katy Perry: Part of Me" apparently cost about $12 million to make and only grossed about $30 million worldwide, she's a reliable enough earner that whatever publisher "inked" a deal with her would want to boast about it.
Bing: More on alleged Katy Perry autobiography
2.    There's nothing on her Twitter account (but she recently had a psychic reading!) or website, where the latest news is from February 15, boasting about being nominated for a Nickelodeon Kid's Choice Awards. If you boast about
that
, you would certainly boast about a publisher paying you for an autobiography.
3.    The two bibles of celebrity news, ie, People (what passes for class in the trash business) and US Weekly (these days, better on breaking news) have not confirmed this. And you know they've been trying since the "news" broke Thursday afternoon. Although this is being widely re-"reported" by sites like GossipCop and The Huffington Post, no one has a new source. It's just the Sun. English tabloids love starting unfounded rumors. Remember when The Telegraph started the rumor that Angelina Jolie and Brad Pitt got married on Christmas Day at Donna Karan's Parrot Cay estate?
Bing: More on Russell Brand
4.    Please. She's going to tell us all about John Mayer? The Sun
wishes
. Sure there were signs of her breakup with Brand in "Part of Me," but that was unavoidable; husbands are harder to dodge than boyfriends and marriages that take place as publicly as their Indian nuptials did are hard to ignore. While she and Mayer have been photographed a fair amount and neither of them have exactly been souls of discretion in the past, both have had some big, life changing experiences. Her, divorce, him health and public shaming. Remember how burned he felt by Taylor Swift releasing a song about him? You think he'd groove on being included in a Katy Perry autobiography? In a free-ranging interview with Rolling Stone in January that touched on everything from his health and diet to current musical interests Mayer was asked about dating Perry. This is all he said: "It's been....I mean, I'm quite happy. I'm happy in all aspects of my life. I'm very happy in all aspects of my life." If they are as happy as they've seemed in photos at the Grammys, celebrating the New Year in Hawaii, or going out for Japanese together, chances are Perry is too busy planning another wedding to write a book.
This is not to say that Perry won't someday have a book deal. More likely than not she will; the pop star is a savvy businesswoman and books are just another moneymaking opportunity. (How fun would it be to be her ghostwriter?) But I believe she'll do it under her own terms and we'll hear about it from a source other than The Sun.