The 'Fifty Shades' effect: Another 'Twilight' fan fic-based novel is on its way
This one is called 'Beautiful Bastard'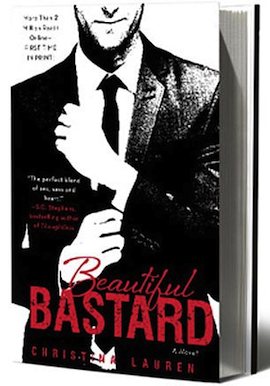 While the runaway success of E.L. James' "Fifty Shades of Grey" has already spawned scads of imitators, the smutty series that got its start as "Twilight" fan fiction wasn't exactly the first of its kind. 
Before James was churning out her vision of Edward Cullen and Bella Swan as S&M aficionados, Christina Hobbs was doing something similar - writing a steamy fan fic called "The Office" that also took its character cues from Stephenie Meyer's series. And, like James, Hobbs shared her work online, which helped turn it into a massive hit amongst fans of this particular genre. But, "overwhelmed" by the success of her story, Hobbs eventually took her story off the web.
Bing: 'Beautiful Bastard' | Christina Lauren
Fortunately for her fans, she then teamed up with Lauren Billings to "rework" the story to include less of an obvious "Twilight" influence (copyright issues and all that) and to make it far more
publishing-friendly.​
The result is the brand new "Beautiful Bastard" series, as penned by the ladies under the pseudonym "Christina Lauren." 
The book's official synopsis (provided here by GoodReads) tells us:
An ambitious intern. A perfectionist executive. And a whole lot of name calling. Discover the story that garnered more than two million reads online.
Whip-smart, hardworking, and on her way to an MBA, Chloe Mills has only one problem: her boss, Bennett Ryan. He's exacting, blunt, inconsiderate—and completely irresistible. A Beautiful Bastard.
Bennett has returned to Chicago from France to take a vital role in his family's massive media business. He never expected that the assistant who'd been helping him from abroad was the gorgeous, innocently
provocative—complete​ly

infuriating—creature​

he now has to see every day. Despite the rumors, he's never been one for a workplace hookup. But Chloe's so tempting he's willing to bend the rules—or outright smash them—if it means he can have her. All over the office.
As their appetites for one another increase to a breaking point, Bennett and Chloe must decide exactly what they're willing to lose in order to win each other. Originally only available online as The Office by tby789—and garnering over two million reads on fan fiction sites—Beautiful Bastard has been extensively updated for re-release.
So, it's "The Office" meets "Fifty Shades of Grey," thanks to "Twilight"? Well, okay.
The Hollywood Reporter (via Jezebel) has an exclusive sneak peek at a section of the book but, be warned, it's not even remotely safe for work and it's decidedly X-rated. It's also, frankly, a bit worrisome if you're concerned about things like workplace appropriateness, relationships influenced by uneven power structures, and the question of consent. (Fine, it's really worrisome.)
"Beautiful Bastard" is set to hit shelves on February 12. Its sequel, "Beautiful Stranger" will also arrive later this year.

So a young girl is attracted to a douchebag guy who happens to be her boss.  He treats her like crap, she sees it as "love", and they have a sexual relationship.  Sounds like the stupid crap women engage in everyday.  "I love him, but he's such a jerk!"  Way to encourage healthy, normal relationships (sarc)!  I'm not big on the feminist movement, but these kinds of books are just setbacks for women being in healthy relationships, where they should be respected and treated with kindness.

This "New genre" is simply a Knock off of the Twilight series with some S&M mixed in.  I was not impressed with Fifty Shades of Grey.   I personally could not stomach the simpering weak minded Heroine.  The sex depicted in Fifty Shades was not that hot either, I have read better.  My favorite Author is Kresley Cole; her Female characters are Strong, Smart, Funny and Independent.  The Males are HOT and Irresistible!!  Kresley Cole writes Wonderfully Wicked Romances of the Paranormal variety.  Her stories are wicked, sexy and sinful.  If you don't want to read another Twilight Knockoff or suffer through a simpering story line, I suggest reading one of Kresley Cole's novels.  My favorites are:  "Wicked Deeds On A Winters Night" and "No Rest For The Wicked"

Ok back on the subject...   Kresley Cole has been writing Wonderfully Smart and Sexy Romance Novels of the Paranormal variety with strong female characters.  I could not stomach the simpering female lead character in Fifty Shades. If you don't want to read another Twilight Knockoff and you are looking for a Smart, Funny and Hot reading experience I reccommend Kresley Cole's books, especailly Wicked Deeds On A Winters Night.
Are you sure you want to delete this comment?