Even Gwyneth Paltrow must be worried about selling books
The Oscar-winning actress shares her recipes in 'It's All Good' and secrets in the press: Coincidence?
Apparently even actress and lifestyle guru Gwyneth Paltrow worries about selling books. That's how bad things are in publishing.
Why else would she chose this moment in time, just two weeks before her new cookbook, "It's All Good" hits stores, to share with the gossip hungry public that she had a miscarriage sometime after the birth of her second child, Moses? "I had a really bad experience when I was pregnant with my third and it didn't work out and I nearly died," she told the UK's "Daily Mail" in a long fireside chat that  ran in its Sunday magazine, "You." "You" is the kind of uber celebrity friendly outlet where journalists, in this case someone named Jane Gordon, write things like this:
"If it had taken me a week to fall for her recipes, it takes me about five minutes to be totally in thrall to Gwyneth herself. In fact, I am so charmed by her that I begin to harbour fantasies of becoming her new best friend."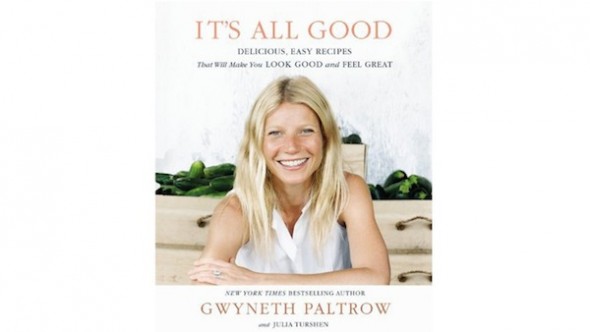 Jane! You sound as soggy and unappetizing as Paltrow's Avocado Toast (which you also loved). Don't get me wrong, most outlets are celebrity friendly, and I've been charmed by movie stars before because--here's a scoop--they tend to be charming. And dazzlingly beautiful. (On the cover of "It's All Good" above, doesn't Paltrow look about 19 and utterly adorable?) But the "Daily Mail's" "You" is over the top when it comes to gush.
Still, Gordon got a scoop with this sad and humanizing story. Paltrow didn't get into the nitty gritty, although those who can't help absorbing Paltrow gossip, myself included, remember when she allegedly had a stomach bug or something relating to a cleanse and had to be hospitalized, quickly jumped to the conclusion that it happened about five years ago. Her only elaboration was this,  "So I am, like, 'Are we good here or should we go back and try again?" Then, Gordon writes, she changed the subject.

Bing: More on Gywneth Paltrow
It
is
possible Paltrow changed the subject because she realized she had let something slip while sitting in the warm company of
Avocado-Toast-loving​
Jane Gordon (that would be gluten free toast, presumably). I'd give her the benefit of the doubt if the GOOP master weren't so highly controlled in every other aspect of her life. Why would she let her guard down for sweet Jane?
Easy, look at the results: she commanded the celebrity gossip cycle for the last 24 hours, even with Lindsay Lohan bound for court again, and her book is already #94 on Amazon even though it isn't even out yet. (Pub date is April 2.) That's a lot of pre-orders for a book "The New York Post" called "a recipe for ridicule" in
this review
. And which discourages its readers from eating dairy, coffee, alcohol, eggs, sugar, shellfish, wheat, meat, soy or anything processed. (What's left? Lettuce? I got hungry just typing out that list.) But apparently, it does include many pictures of Paltrow, her daughter Apple, 9, and son Moses, 7. Does that qualify as more selling out from the woman who lives in England because the privacy laws are so much stronger? Or is it not selling out when the images are controlled? I think the former. I have been happily cooking non stop out of Dorie Greenspan's book "Around My French Table" for the last year without any craving to know anything about her children, or even if she has them.

Bing: More on Dorie Greenspan
There are many great cookbooks in the world but there aren't a lot of easy-to-follow recipes for how to look like Paltrow. So I can see the attraction to "It's All Good," even if I don't feel it. Except! Three years ago, right around the time Paltrow was working on her first cookbook, "My Father's Daughter" released in spring 2011,
when she already looked amazing
, she discovered that she was, according to what she told "You," "a mess. I was vitamin-D deficient, I had anaemia, I had thyroid issues, my liver was congested, I had hormonal imbalances and a benign tumour on my ovary that had to be removed -- I mean, it was crazy. I knew it was time for change." So is the first cookbook now a treacherous pit of pasta and gluten? Or are they all just fads?