In lieu of a blurb, Jonathan Lethem writes a letter
It calls Matthew Specktor's 'American Dream Machine' wildly audacious. Are letters the new blurb?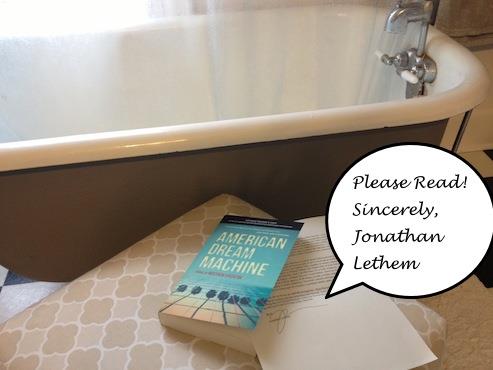 I drew myself a tub last night and settled in with a galley of an upcoming novel, Matthew Specktor's "
American Dream Machine
" (pub date: April 9). The title refers to the movie business and the plot revolves around a Hollywood talent scout and his two sons. Given that I love movies and books and have spent much of my career writing about both,
of course
I am a sucker for novels about the movie business. Moreover, Specktor, a founding editor of "
The Los Angeles Review of Books,
" a publication I admire and read regularly, is the son of a talent agent; I'd be willing to bet he knows his material.
I flipped it over to check the blurbs. I always do that, even though I know blurbs are very often complete crap. Only one, but it's bold: someday I--and you--will speak of Specktor's Los Angeles the same way we think of Raymond Chandler's or Joan Didion's Los Angeles.  I'm in.
Then as I opened the book, a letter fell out. It's from "
Motherless Brooklyn
" and "
Fortress of Solitude
" author Jonathan Lethem. I'd read that the novelist and essayist had declared himself on "blurbatorium" and in the letter Lethem makes reference to putting a halt to it, having become "profligate" in his blurb-writing. The letter was his substitute and it promises a book of "allusive structure, stunning characters, and [a] cornucopia of evocative, crystalline details" and that would be "one of the best new novels you'll see in a long, long, long time."
Three
longs.
Is the personal recommendation letter, signed in ink no less, the new blurb? It's more secretive, since shoppers at bookstores or Amazon won't see it, but has its own form of power. What bookseller wouldn't take note of Lethem's endorsement and put "American Dream Machine" on the coveted table or display at the front of the store?
What Lethem calls the "dirty, dirty game" of blurbing has been well covered. Check out A.J. Jacobs'
charming "New York Times" essay about cutting himself off from blurbing
after being ridiculed publicly for writing too many. Writers tend to get friends, or friends of friends, or other clients of their agents, or other authors who work with their editors or publishing houses to blurb their books (I did this myself). You scratch my back, etc.. And often, this is an understandable act of mercy, because just when you've finally finished a manuscript and are feeling redeemed, your publisher asks you to gather blurbs. Not an intern, not an employee, but you. Other than dismal sales, this is quite possibly the worst part of publishing for anyone lucky enough to be published. It's a miserable business involving groveling, begging and then possibly, owing someone else a blurb when there's a good chance you won't even like their books.
Once I interviewed an author I admire tremendously. In passing I asked her about a book I'd recently read, a book I'd found sort of sweet but woefully self-absorbed. This author, though she rarely blurbs, had blurbed it, calling it rich and honest, among other things. I told her what I thought of the book. Her eyelids dropped and she sighed. "It's not a profound book," she said. Because I think of this particular writer as being profound, her endorsement of the book in question had led me to, naively, hope for it too to be profound. Instead it was trivial. She wasn't the only writer to mislead me; another favorite writer of mine had described the book beautiful (a term that only applied to the lusciously designed book jacket). You can see why I don't find blurbs trustworthy.
Yet still, I do look at them and I bet you do too.
What to make of a letter as blurb substitute then? It is certainly a personal touch. Lethem writes of his epistolary Specktor endorsement "I've never done it--but I was a bookseller myself for long enough that I know that nothing matters like connecting with a book personally, and also that there's a sea of galleys out there petitioning for your invaluable personal attention." The piles around my book reviewing feet reflect the truth of this statement.
Lethem is friends with Specktor, if
this entry in "The Paris Review's" regular feature The Culture Diaries
is any indication. (Summary: Lethem calls Specktor from the airport to let him know he might be needing help with his "high-strung" dog, who had a "meltdown" at the airport.) My Seinfeldian rule of thumb, is that anything to do with airport transportation signifies friendship. Add to that a challenge involving a difficult pet? That's true friendship.
Blurbs tell you of graceful and stunning prose, of riveting and innovative plots, of not being able to put a book down and thus ignoring all familial and professional duties. Sometimes they lie. Sometimes they tell absolute truth. The upcoming release "
Mary Coin
," by Marisa Silver (out March 7) has blurbs from Ben Fountain, Mona Simpson and Meghan O'Rourke, who variously call it "one of the best novels I have read in years" and "a soaring work" and "extraordinarily compassionate and wise." As far as I'm concerned, all three of them are right. Lethem may be as well; I'm looking forward to digging further into "
American Dream Machine
" to find out, even as I'm aware of the oil it takes to make the blurb--and now personal letter--machine run smoothly.