Donna Tartt puts a bird on it with 'The Goldfinch.' Was it destiny?
Her new novel, 'The Goldfinch,' is slated for an October release. We have questions.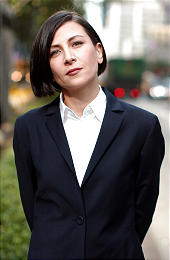 Donna Tartt's third novel, purchased by the ever-patient Little Brown in 2008, is finally scheduled for publication this October 22. It's called "The Goldfinch." She put a bird on it! (The folks on "Portlandia" will eat that up.) Here's the Amazon description:
A young boy in New York City, Theo Decker miraculously survives an explosion that takes the life of his mother. Alone and determined to avoid being taken in by the city as an orphan, Theo scrambles between nights in friends' apartments and on the city streets. He becomes entranced by the one thing that reminds him of his mother: a small, mysteriously captivating painting that soon draws Theo into the art underworld.
Please God don't let it be anything like Jonathan Safran Foer's "Extremely Loud and Incredibly Close." It sound like it, doesn't it? But I trust Tartt a lot more than I trust Safran Foer. I actually don't trust him at all; sometimes when I'm bending over the plastic wrapped flesh at the supermarket, in its hues of dark red, pink and yellow, I
do
contemplate vegetarianism. And then I think about Safran Foer's sanctimonious "Eating Animals" and toss a steak in the cart.
Bing:
More on Donna Tartt
How about this for a weird goldfinch coincidence? Or maybe just a sign that Tartt was destined to title a book "The Goldfinch." At the end of "Smart Tartt," Vanity Fair's 1992  profile of Tartt, the author:
"spots, with delight, a whirling flock of goldfinches. 'Look at these goldfinches - do you see?' she cries. 'Goldfinches are the greatest little birds, because they build their nests in the spring, a long time after all the other birds do. They're the last to settle down - they just fly around and they're happy for a long time, and just sing and play. And only when it's insanely late in the year, they kind of break down and build their nests. I love goldfinches,' she sighs, huddling tinily in the big car seat. "They're my favorite bird."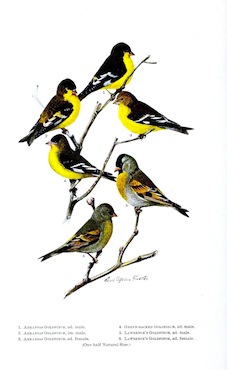 "Tinily." Not a word VF.
It's been 11 years since Tartt's follow-up to 1992's "The Secret History," "The Little Friend" was released. It reportedly sold 150,000 copies, which isn't bad by any stretch of the imagination, but doesn't quite measure up to the 5 million copies of "The Secret History" sold. Perhaps it was inevitable, but the second book wasn't nearly as thrilling as the first. Maybe murderous college kids are just more fun than children in Southern Gothics who aren't Scout Finch. Maybe after waiting a decade, our expectations were unduly high. In an essay on the tendency of various great American novelists to put out too few novels, "The New York Times'" literary critic Dwight Garner suggested that "The Little Friend's" bloated form (640 pages) was in need of some "liposuction" and might have been a product of Tartt feeling "obliged to put out novels that appear to have genuinely taken 10 years to write." I rushed right out to buy "The Little Friend" in 2002, enjoyed it well enough but have no desire to read it again. It's about time to revisit "The Secret History" however.
Tartt makes no apologies for not being prolific. The way she works, painstakingly, prevents it. She's not much into contemporary literature. Occasionally she'll write an essay or a poem, she has said, but mostly she's just plugging away at her fiction. In between, she plays with her dogs and goes to movies. In a 2002 interview, she told Identity Theory's Robert Birnbaum she was working on a novella (about Daedalus and Icarus) as part of Canongate's ongoing series "The Myths," retellings of classic myths by contemporary authors. That seems to have vanished into the ether. I'd like to know what became of it.
Three other intrusive questions for the reclusive writer:
What really happened with Gwyneth Paltrow and the movie rights to "The Secret History?" Paltrow and her brother were supposedly developing the project for years, and then the rights reverted back to Tartt. That was 10 years ago. She hasn't sold them since, or not that anyone knows of. What did Paltrow do to turn Tartt off the movie business and did it have to do with colonics or macrobiotic foods?
With this much time between books, how does Tartt manage to maintain residences in New York and Virginia? Or live in the Gramercy Hotel, as she wrote in the Observer in 2003, she'd done for "several years?" Sales on "The Secret History" were great and supposedly she landed at least a $1 million advance for "The Little Friend." But times are hard, farms in Virginia have to be maintained and it's not like Tartt has a sweet teaching gig with benefits. (She answered Birnbaum, when he asked her if she was "interested in the adjunct activities of writing: teaching, reviewing, writer's conference and so on" with a simple "No, none of those things.")
Finally, has she seen any of her old friend from Bennington, Bret Easton Ellis' tweets? Can she pass on some wisdom to him about maybe waiting awhile before publishing?
Can't wait for her to surface in October, wearing one of her
I'm-the-female-Wes-A​nderson
suits, and answer all these questions and more like them. Or dodge them.
Bing:
More on Bret Easton Ellis