Comedian and author DC Pierson offers fun incentive for pre-orders on his 'Crap Kingdom'
It involves rapping, your name, and YouTube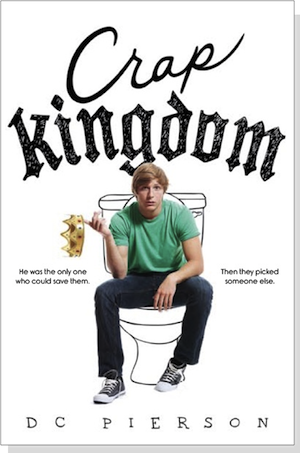 When it comes to pre-ordering books, most of the incentive in the pre-order is, well, the pre-order itself - the knowledge that your possible new favorite book will be winging its way to you as soon as possible and all you have to do is sit back and wait for it to arrive. But author (and actor and comedian and, as you'll soon learn, rapper) DC Pierson thought that book pre-orders could be used for something much more fun, coming complete with an incentive for his soon-to-be readers that would make them feel special and allow him to to connect with them in unexpected ways.

In short, if you pre-order Pierson's upcoming novel, "Crap Kingdom," he'll make up a rap that includes your name. A custom rap. A crap. Even better, he'll perform, record, and post to his YouTube page. Stephen King would never do that.
When reached for comment (via Twitter, where he has proven himself to be a fun and involved entertainment presence), Pierson explained his motivations in simple terms: "I needed a way to get people excited about pre-ordering in a way that wasn't just 'Hey, check your mailbox in a few months,' and something to inspire them to actually make the transaction instead of just being curious and moving on. I thought 'custom rap' and when I realized it could be abbreviated to 'c. rap,' as in 'crap,' I felt like I was being handed my destiny. Like Obi-Wan was calling. A rappin' Obi-Wan, which, coincidentally, is what I have painted on the side of my van."
"Crap Kingdom" centers on that old fiction trope - a regular person is plucked from their normal life because they are the "chosen one" in some cool, magical other place - but with a major twist. For Pierson's main character, Tom Parking, his chance to be the chosen one comes with a major bummer - the kingdom that chose him is garbage. No, really, it's filled with garbage, and that's just the beginning. So, like any person with half a brain, Tom jumps ship on this Chosen One nonsense, which all seems like a good idea until his much cooler best friend, Kyle, is subbed in as Chosen One. Suddenly, Tom wants that Crap Kingdom back. No matter what.
Pierson's first novel, "The Boy Who Couldn't Sleep and Never Had To" was released back in January of 2010 (and it comes highly recommended by the Page-turner).
"Crap Kingdom" will hit shelves on March 7. You can pre-order the book at both Amazon and Powell's Books. Head on over to Pierson's website to learn more about his awesome incentive offer (and to, presumably, get your name written into a new rap).