New This Week; Picoult, a Booker contender and some inspiration for your New Year's Diet
Along with a novel about a movie critic (!) hanging out with the ghost of Dorothy Parker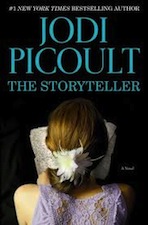 She hardly needs the plug, but the mega bestseller Jodi Picoult has a new novel out this week, "The Storyteller." To the left, the cover, featuring the old
back-of-the-head-but​-pretend-it-is-Jenni​fer-Lawrence
shot of a young woman. It's her 18th novel (Picoult is only 46) and tells the story of a young woman, Sage Singer, who befriends an elderly gentleman who comes into the bakery where she works. Josef Weber is a local treasure, retired teacher, Little League coach and uh, also a former Nazi who worked as a guard for the SS. He asks Sage to kill him, because he doesn't deserve to live. How about this twist, described on Picoult's website: "Complicating the matter? Sage's grandmother is a Holocaust survivor. What do you do when evil lives next door?" You know what I do when evil lives next door? I opt not to take the garbage out at night.
Bing
:
More on Jodi Picoult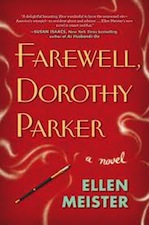 Another bestseller with mainstream appeal, Ellen Meister ("
The Other Life
," "
The Smart One
") has a new novel as well, "Farewell Dorothy Parker." It's about a movie critic named Violet Epps who meets her idol, Parker, after the legendary wit appears as a ghost, hanging around the Algonquin Hotel. Parker accompanies Violet home and both harasses and empowers Violet, who has been bold in her criticism and meek in all other aspects of her life (like having the gumption to dump her loser boyfriend). Meister's extreme creative license with the life/importance of a movie critic includes a) the expectation that her name will gain her favors at restaurants and b) hearing other diners quoting from her reviews as she walks past. Maybe this happens to Roger Ebert but...actually wait, I was recognized by name once. I was buying vodka at Beverages & More and the clerk looked at my credit card and asked if I was that movie critic. As the bottle was bigger than my head, I felt compelled to blurt out "It's for a party!"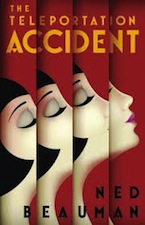 Ned Beauman's "
The Teleportation Accident
" was on the long list for last year's Booker Prize. It's about a theater set designer obsessed with a Renaissance teleportation device and the death of its inventor. No one from Bloomsbury sent me a copy however, because I have that kind of luck. England's generally trustworthy Guardian called it a "genre-bender" (noir but funny, sci-fi but romantic) and "terrific." It's set in the 1930s and the action takes place in Berlin, Paris and Hollywood and reportedly includes some humorous bits about Nazis (I do not think Ms. Picoult goes there). One reviewer compared Beauman (his previous novel was "Boxer, Beetle") to my beloved PG Wodehouse
and
Kurt Vonnegut. Another reason I want to read it, Beauman has said he was inspired by Mike Davis' much revered history of Los Angeles, "City of Quartz," which was pretty much the first book I ran out to buy after moving to Southern California in 1994. After my Thomas Guide of course.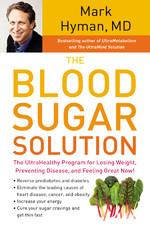 Fallen off your 2013 diet yet? I know I have. Perhaps a little chia seed milkshake from Mark Hyman's "
The Blood Sugar Solution Cookbook
" will put you right. No, I didn't know what chia seeds were either, but let's trust no chia pets were injured in the harvest. Can they improve the taste of a puree of date, avocado, almond milk and baby spinach? Hyman, whose earlier book "The Blood Sugar Solution" advocated for weight loss through balanced insulin levels, offers 175 "delectable" recipes to "allow you to take back your health. I'm over the weight loss fads but I'm going to give the book a chance (although likely not the chia seeds) purely on the basis of the fact that that Hyman was the co-director of Canyon Ranch for 10 years. I use the Canyon Ranch cookbook "Nourish" all the time and while I'll never make that dull cucumber soup again, most of the recipes are fantastic.
Bing:
More on Mark Hyman
Maybe you prefer to lose yourself in a smart romance? Lucy Ellmann's "Mimi" promises TK.