Chuck Klosterman returns to questioning pop culture in upcoming release
This time, the author delves into the darkness of villains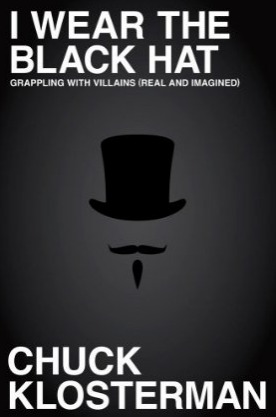 Cultural critic, entertainment essayist, and all-around funny guy Chuck Klosterman is set to return to his book-writing roots in his upcoming release, a new collection of essays titled "I Wear the Black Hat: Grappling With Villains (Real and Imagined)." Klosterman is perhaps best known for similar essay collections, including "Sex, Drugs, and Cocoa Puffs: A Low Culture Manifesto," "Chuck Klosterman IV: A Decade of Curious People and Dangerous Ideas," and "Eating the Dinosaur." Lately, though, the writer has been dedicating his talents to Bill Simmons' popular website, Grantland.com, and writing novels, including his "Downtown Owl: A Novel" and "The Visible Man," both highly recommended from the Page-turner.
Bing:
Chuck Klosterman
|
'I Wear the Black Hat'
Klosterman's latest centers on the author's unexpected changing of allegiances - from a kiddo who cheered for Luke Skywalker to an adult who found himself rooting for Darth Vader (Klosterman, it seems, is still able to mine his childhood loves for fresh material, thank goodness). But "Black Hat" isn't just about Klosterman and baddies, it's about how modern societies identify and perceive that shifting idea of "villainy." Sound dark? Only if you're not yet familiar with Klosterman.