Don't worry, you will have a new Nicholas Sparks movie to see on Valentine's Day 2015
At least, if this Hollywood bidding war shakes out correctly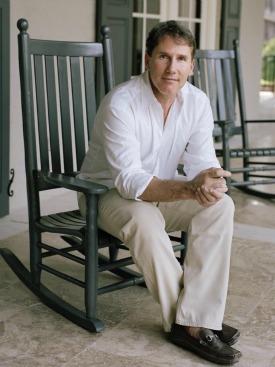 Just a week after the release of the latest cinematic adaptation of a Nicholas Sparks' novel, the Julianne Hough- and Josh Duhamel-starring "Safe Haven," Hollywood is apparently locked in a bidding war for the
next
Sparks novel primed for the big screen treatment.
Deadline Hollywood
reports that the movie rights for Sparks' upcoming "The Longest Ride" are up for sale and are expected to sell for somewhere in the seven-figure range, as studios and producers are "lining up" to get a crack at what could be the next big romantic drama.
Bing:
Nicholas Sparks
|
'The Longest Ride'
It is also believed that Sparks' agents at UTA will "make it clear that the goal is to have the movie ready for Valentine's Day 2015 release." With "Safe Haven" doing brisk business over last week's holiday, such a plan sounds like a real no-brainer. Two other Sparks films also debuted in time for Valentine's Day, with "Message in a Bottle" arriving back on February 12, 1999 and "Dear John" hitting theaters on February 5, 2010. This is prime date night positioning.
Much like mega-hit "The Notebook," "The Longest Ride" is split between two different love stories that merge in unexpected ways. Deadline reports that "it opens with a 90-year old man snowbound and stuck in his car after a major crash on an isolated road. As he drifts in and out of consciousness awaiting rescue, the man sees visions of his life love, who died earlier. Together they reminisce about their life together, including his difficulty in returning from WWII, and being unable to have children with her because of a war wound. They become renowned art collectors and the man has been lost since she died from a stroke." Aw, that sounds adorable.
"The other romance is between a young art history major and a handsome bull rider who fall in love despite coming from completely different backgrounds. Each has aspirations and dreams, and the cowboy is fighting the clock and should not be riding due to past injuries, but has a family ranch to save. A strange occurrence allows the two generations of lovers to save each other." That sounds less adorable, but quite Sparksian.
Sparks' adaptations have turned into a major moneymaker for the author, as no less than eight of his books have inspired films over the years. These cinematic spins on Sparks' books first launched in 1999 with "Message in a Bottle," hit its peak with 2004's "The Notebook," and has pulled in about almost $500 million in total box office receipts. With "Safe Haven" only in its second week of release, that cash will only increase over the coming months.
There is no word yet on the book's U.S. release date, but the UK book outlet
Waterstones
lists a September 24th release for the novel over on that side of the pond.
Which do you prefer - Nicholas Sparks' books or the movies based on them? What's your favorite book of his? Do you agree that "The Notebook" is the best film adaptation of his works?