Imagining a movie star dad; Christine Sneed's 'Little Known Facts'
A debut novel about a Harrison Ford-like character and his aimless young adult son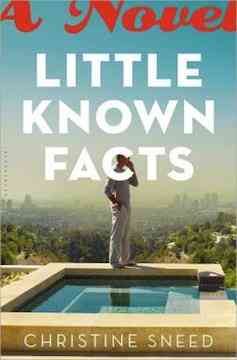 In her debut novel, "Little Known Facts," Christine Sneed imagines the life of the young adult son of a famously charismatic and talented movie star named Renn Ivins, who the book jacket describes as of "Harrison Ford-like stature." Will Ivins, known by his parents by the more diminishing "Billy," has everything, including a healthy trust fund. He might go to law school. Or not. Or he might help out his dad on the set of his new movie. And maybe make a pass at the hot young starlet his dad is dating. Or not; his is a life of ennui. Since I have spent way too much time imagining what it might be like to be Zahara Jolie-Pitt ("When you get back from war-torn Syria Mommy will you ask Louis Vuitton to make me a purse just like yours?") I tore through this instantly engaging box of literary candy in a weekend and immediately thought: TV series, HBO or AMC-style.


On her publication day, here's my Q&A with the clever Sneed, whose first book, a short story collection called "Portraits of a Few of the People I've Made Cry," won the 2009 Grace Paley Prize in Short Fiction and was a finalist for the Los Angeles Times Book Prize.

PT: You live in Evanston Illinois, and have impressive literary credentials, including a MFA in creative writing from Indiana University. But reading "Little Known Facts" I would think you had logged some hours in an agent's office in LA or worked on a movie set. Or maybe you are a secret subscriber to People? Please share your sordid research.

CS: My research basically falls into one category: preying on patient friends for advice, the few I know who work in the movie business; my friend David Elliott, in particular, who has worked as an actor and is now an on-set construction foreman in Hollywood.  He's also a fiction writer and read "Little Known Facts" in draft form, gave me some helpful suggestions and corrected some of my terminology.  Most of my other research was cumulative: being a movie addict for most of my life -- seeing as many movies as possible, reading the tabloids on occasion and lots of film reviews (writing them too on and off).

PT: Is "Harrison Ford-like stature" your descriptions or your publishers? If it's yours, how did you arrive at that? Was Ford actually the visual place marker as you wrote? Do you have any particular feeling about Ford as an actor? I personally would have gone Amish for him back in his "Witness" days.
Bing: More on Harrison Ford

CS: That description was the one I sent to the agent, Lisa Bankoff, who eventually took me on, when I sent her the first five chapters.  I think Ford is emblematic of the type of iconic actor who came to mind as I wrote -- Robert Redford, Paul Newman, and yes, the super-cute George Clooney.  I think Ford is a very talented, and I loved his character in "Witness" -- oh yes, I had a crush on him then (Kelly McGillis -- that lucky woman!)  A big crush.  My oldest friend, Melanie, had a crush on him as Han Solo, but I preferred John Book.  "Witness" is still one of my favorite films.  Han Solo was so sarcastic -- I was too young to get him when "Star Wars" came out. 

PT: Have you ever interviewed any celebrities? And are you a fan of Jennifer Egan's "A Visit from the Goon Squad?" She has that passage with the ill-fated interview with the hot young starlet -- I thought of it when I was reading Jim M's--the devious propmaster who steals Renn's props and sells them on the black market--imagined interview with the star.  

I never have interviewed any celebrities...wait -- my partner Adam's sister, Amy Tinkham, and her husband Eric Stromer, work in Hollywood, and I have certainly grilled them about various things (they've been very patient with me, like David Elliot has).  I've asked them about their friendships with a famous female singer and an actor who, coincidentally, was in "You Can Count on Me." I loved "A Visit from the Goon Squad!" I had already written the first few chapters of "Little Known Facts" by the time I got to "Goon Squad" and had sketched out the remaining eight -- it seemed to me serendipitous that I was writing something in a similar vein -- it made me feel better, like I could actually do it.

PT: What is your favorite Hollywood novel? (Or favorites as the case may be.) Was there any piece of fiction or non fiction that inspired you in the creative process? Are you a fan of "The Player" for instance?

CS: I loved Jess Walter's "Beautiful Ruins" -- I read it in two or three days; it was so well written, so imaginative and just plain fun.  He had such a good time writing that novel, I'm guessing. To be honest, I haven't read many Hollywood novels, but I think sometimes about Jim Harrison's "Legends of the Fall," both the film version and the novella -- it's really beautiful, and that book's tone, and the film's, I think I was trying for a little of that. The same with "The English Patient." And yes, I think I thought of "The Player" often as I was writing "LKF"; that movie made such an impression on me too.  I find Hollywood fascinating, but I guess that's obvious.  The enormous dreams, the scale of its reach and influence on people's lives; there's really nothing else like it.  The whole world, like it or not, is in its thrall to some extent.  

PT: Renn's son Billy is a spoiled, aimless sort, and the novel follows him through a slow course of self-improvement that includes obsessive running and taking cooking classes in Paris. He is working on a screenplay called "Little Known Facts." Do you have a feeling about whether or not it's any good? A vision for what it looks like, what kind of movie it might make or if it will get made?

CS: I do imagine Billy's screenplay turning out very well.  I think he will be able to get it produced; he'll direct it and it will be good.  I see him as a director and screenwriter, like Noah Baumbach maybe. Or Charlie Kauffman but not nearly as zany as Kauffman.  But an auteur, like Kubrick too, I think. I see Will's film as a quiet but really powerful film, with a little humor too, like "You Can Count on Me," which is one of my favorite movies ever.  Hands down.  

PT: Meanwhile your version of "Little Known Facts" seems like a no brainer to get optioned. Has that happened?

I'm not sure!  I know [my agent] has been working on this -- ICM has offices in L.A.  I need to ask her.  Of course, I would love that.  (Are you reading this George Clooney?)