FEATURED POST
Candor, thy name is J.Law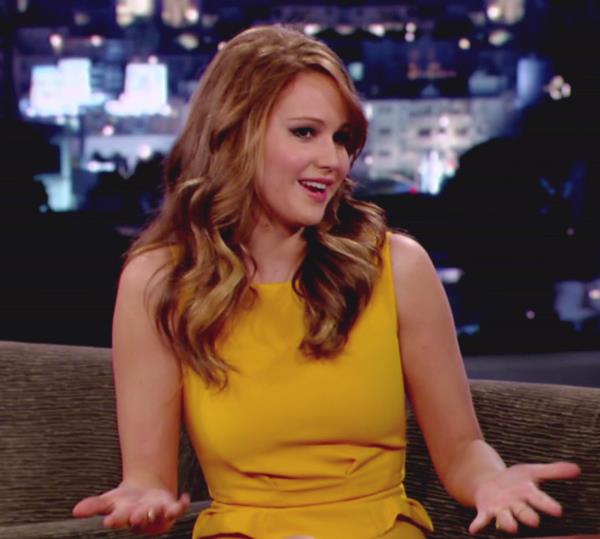 Jennifer Lawrence is kind of like the anti-Kristen Stewart: She's fun, forthright, relatable and a little bawdy. Most importantly, she doesn't seem to be in physical pain when doing public appearances. Case in point: Her freewheeling sit-down on Thursday with Jimmy Kimmel, which began with her informing the audience that she was pie-eyed thanks to some producer-provided tequila shots and segued into a story about her recent
bout with pneumonia
.
"I just went to the doctor today," Lawrence explained. "I got a chest X-ray of my lungs and discovered that my breasts are uneven. I was like standing there with these doctors and they're like looking at my lungs and I just couldn't -- it felt like an elephant in the room -- and I was like, 'Are my breasts uneven?' And they were just kind of, like, stifled and uncomfortable, obviously. So I kept thinking, 'Well, I'm gonna dig myself out of this hole by bringing it up again.'"
And how'd she do that? "So he was like, 'All right, our radiologist will get back to you about your lungs.' And I was like, 'And my breasts.'"
Concluded the actress, "I hope that no one will ever see my breasts in an X-ray. I hope I'm never seen in that light."
Off-kilter X-ray or no, she looked amazing on Kimmel. You can judge her sobriety level by watching the chat:
Meanwhile, the candid-to-a-fault star also chatted up CNN's Piers Morgan this week, and he helpfully showed her footage of her would-be wardrobe malfunction at last Sunday's SAG Awards.

"Oh. God! Don't do it! Don't play it!" Jennifer, 22, exclaimed as she saw the tiered hemline of her Dior dress slip down to expose her thighs as she collected her Best Actress Awards for "Silver Linings Playbook." "Oh my God, oh my God, oh my God, I haven't seen this! Oh! My pants fell off!"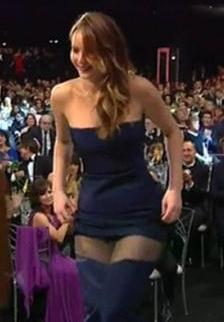 According to Lawrence, someone tripped her on the way to the stage, which led many to believe her gown had ripped, when in fact only the layers had separated. Her adorable reaction while watching the clip is well worth your time (fast-forward to 5:50 to see it).