FEATURED POST
Plus, why he won't watch most of the 'Harry Potter' movies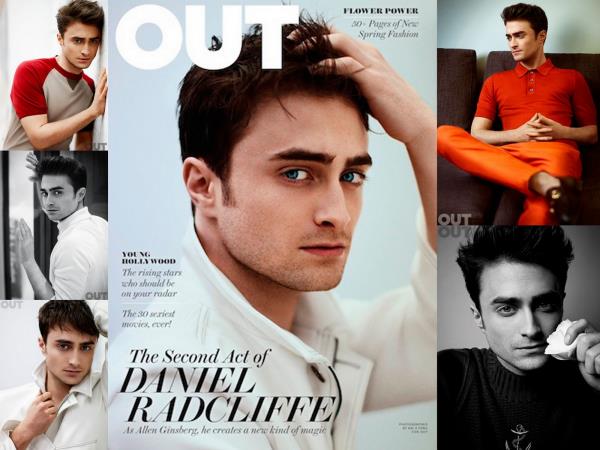 We can't help but root for Daniel Radcliffe, whose smart, self-aware personality is on display in the March issue of Out magazine. In a lengthy interview, the erstwhile Harry Potter discusses his role as Beat poet Allen Ginsberg in the forthcoming "Kill Your Darlings," along with overcoming his boy wizard origins and learning how to act like a professional. Radcliffe also poses for some of the most striking pics even taken of him. Here are some highlights:
On playing gay in "Kill Your Darlings": "You never see a gay actor getting asked what it's like to play straight -- to my knowledge, at least, there is no difference in how heterosexual and homosexual people fall in love."
On watching his work in the "Harry Potter" movies: "I certainly wouldn't watch number three, I wouldn't watch the first two, I wouldn't watch four. I might watch five. … [pause] I definitely wouldn't watch six."

On avoiding the curse of the child star: "I've got great parents who would never have allowed me to become a cocky, obnoxious s---. The thing I learned, much more than learning about acting, was learning about on-set etiquette. As a lead actor on a film you have a tremendous opportunity to influence the entire process by virtue of the attitude you take toward it every day. If you come in raring to go, ready and energized, nobody else has any excuses."
On moving beyond Hogwarts: "I've always said that it's a long process, and in a way it may be a lifelong one. It's about proving to people that I'm in this for the long haul, and that I wasn't just looking to get as famous as I could for as long as I could and ride that out. I love almost every aspect of this industry and I want to be in it, and if I could drop dead on a film set at 80, that's how I'd want to go."
On being cast against type: "I can see why people are skeptical about me playing Allen Ginsberg. I don't look like him, and I'm English and middle-class and not from New Jersey. But that's what I think is so exciting about it, because people have no idea."