Gwyneth's sadness au gratin and other V-Day stuff you might have missed today …
GOOP knows heartbreak, yo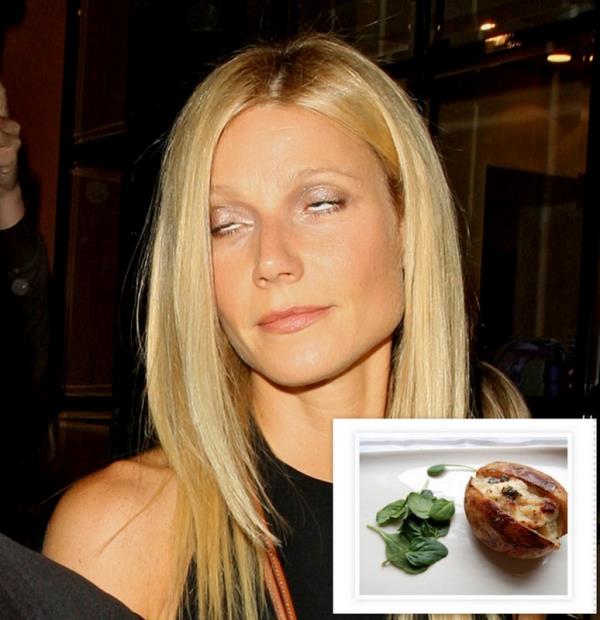 With her rocker husband and two adorable children, Gwyneth Paltrow clearly knows all about heartbreak. And what with being the beneficent overlord of all that is healthy and perfect in this world, she has deigned to send a love letter out to all the miserable singletons. This week's GOOPis all about how, when you're not in a relationship, Valentine's Day is "just a [bleeped] up reminder of what you don't have." Gwyn's solution: a "decadent little dinner for one," including a stuffed baked potato that "is so comforting" for "many" who eat alone. Mmmmm … starchy gloominess. And don't forget to follow up your gluttony with an invigorating, GOOP-recommended colon cleanse.

Need a soundtrack for your baked tuber of depression? Here are 10 songs to buoy your spirits
Pucker up for these iconic movie kisses
Kissing can be a fun solo event, too
How about an anti-Valentine's Day movie? Might we suggest some pig's blood 
Is this short film the most romantic movie of the year? Judge for yourself
"You've Got Mail" vs. "Sleepless in Seattle": Which is better?
Wondering what Mariah Carey listens to on Valentine's Day? Wonder no more
Madonna will be spending V-Day nibbling on a young slab of vealcake
Kudos to Stacy Keibler for hanging on to George Clooney for another Valentine's Day