Details on Leslie Knope's amazing wedding dress on 'Parks and Recreation'
Read it and weep (in a good way)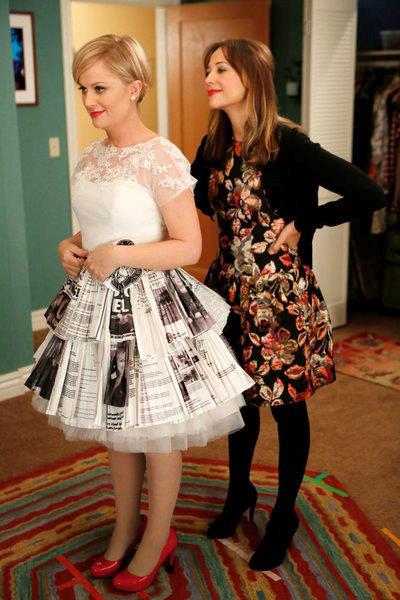 "I was thinking the sensuality of Eleanor Roosevelt combined with the animal magnetism of Leslie Stahl." So declared Leslie Knope (Amy Poehler) as she tasked best friend (and "Project Runway" fan) Ann Perkins (Rashida Jones) with creating a wedding dress for her impromptu nuptials to man-of-her-dreams Ben Wyatt (Adam Scott) on Thursday's episode of "Parks and Recreation." The result had us verklempt.
Pawnee's most dedicated councilwoman tied the knot in a black-and-white dress made from a paper collage fashioned from important moments in her life.
"I gathered up all the meaningful bills, pictures, documents and memos from your career. What do you think? Is it okay?" Ann asked Leslie. Her response: "It is the most beautiful object I've ever seen. It is the Ann Perkins of dresses. It is amazing."
"Parks and Recreation" costume supervisor Kirston Mann tells Vulture that the frock took about a week to make and features everything from campaign flyers to photos of Knope role models Hillary Clinton, Michelle Obama, Sandra Day O'Connor and Madeleine Albright.
The flower decorating Leslie's waist was created from the Pawnee city logo.
"It wasn't just a bunch of newspapers I had lying around," explains Mann. "Every single piece was pulled from a 'Parks' episode -- even though no one in a million years will be able to see all the details."
The big question, of course, is whose unique wedding dress did you love more this season: Leslie's collage couture or Liz Lemon's Princess Leia look? 
Tell us in the comments ...

Liz and Leslie's wedding dress are both so unique, but perfect for each of them. I happen to adore Leslies' style (Mann's incredible talent at work), so if I were to wear one of these dresses it would be Leslie's. This episode was special for me because I'm getting married in six months. I saved it to my DISH Hopper that can stream live TV and my DVR recordings to my tablet, even if I'm not home. I'm taking the week off from my job at DISH at the beginning of next month to go over wedding plans with my mom who lives out of state, and I'll get to show her this episode. It was imperfect, perfect, and beautiful!

Are you sure you want to delete this comment?