Did Fox News accidentally use a picture of a same-sex couple in a piece on traditional gender roles?
Oopsie ...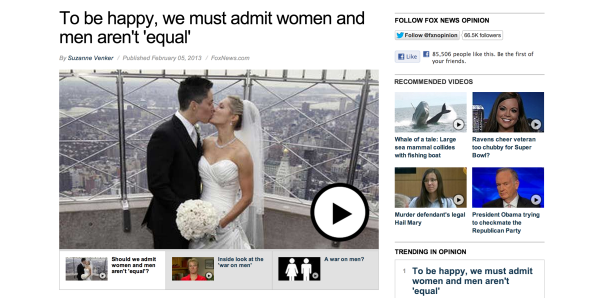 Are we having the best dream ever, or did Fox News really illustrate a Feb. 5 story on traditional gender roles in marriage with a photo of a same-sex couple? An eagle-eyed
tweeter
spied the apparent matrimonial mix-up on Friday. Here's the
Fox News story
 (screen shot captured above), in which author Suzanne Venker argues that "feminism didn't result in equality between the sexes -- it resulted in mass confusion." (Depending on which way you lean, perhaps read it with blood pressure medication handy.) And here's Gothamist's
photo
of Stephanie Figarelle and Lela McArthur, who last Valentine's Day
became
the first same-sex couple to tie the knot atop the Empire State Building. Same newlyweds, right? Either way, we happily offer a belated mazel tov to Stephanie and Lela!