The time Katie Couric went on a really bad date with Larry King
And he lunged at her ...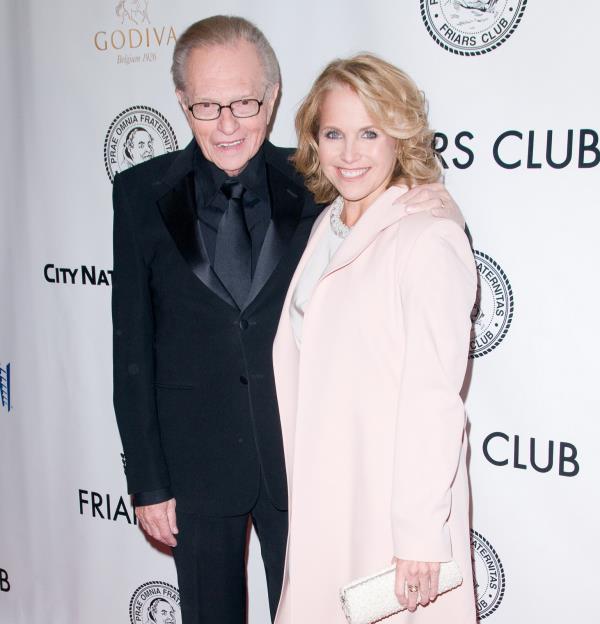 Forget May-December romances: Katie Couric came
thisclose
 to having a May-Paleolithic-era romance with Larry King, a man who enjoys women so much he's been married eight times. In a chat on Thursday night with Jimmy Kimmel, Katie shared her long-ago date night with the suspender enthusiast, and it's as terrifying as you'd expect.
"So I was about 30 years old, and I was going through this period of my life that I was like, 'I am going to go out with anybody who asks me because you learn something every time you go out with a new person,'" she recalls. "So I met Larry at this restaurant in Washington, D.C., so he called me and he asked me out to dinner."
Larry, who would have been in his mid-'50s, picked her up at her apartment in a Lincoln Town Car, popped in a tape of Jack Jones and off they went. Take it away, Katie ...
"We go to this Italian restaurant," she picture-paints. "They put us right next to each other like they do all the men and their 'nieces.' ... And he ordered veal poached in chicken stock because he had just had quadruple bypass, which was hot."
After a perfectly nice dinner, "We're driving home, and I see we're going over Memorial Bridge and that's not the way back to my apartment," continues Couric. "So I go, 'Larry, where are we going?' He goes, 'My place.' And I was like 'Oh, mother of God. Oh God.'"
Katie described it as a "Dear Cosmo" moment.
"I was only thirty I just could not figure out how to extricate myself from it," she remembers. "We walk in [to his apartment] and it's covered with proclamations like 'Larry King Day' and keys to every city in the country, like all over his apartment. That was sexy."
Then things got weird.
"So we sat there, and what can I say? He lunged -- and I love Larry, by the way -- and I started laughing a little bit because the whole situation was out of a bad Lifetime movie. So I said, 'Larry, you're such an interesting, nice man, but I would like to meet someone a little closer to my age.'"

Larry's bone-chilling response: "That's OK, 'cause when I like, I really like."
Katie eventually did meet someone closer to her own age: Jay Monahan, whom she married in 1989. He died nine years later from colon cancer.
Watch her tell Jimmy about her Larry encounter ...