Scarlett Johansson on auditioning for Anne Hathaway's 'Les Mis' role: 'I sang my little heart out'
What malady may have been her undoing?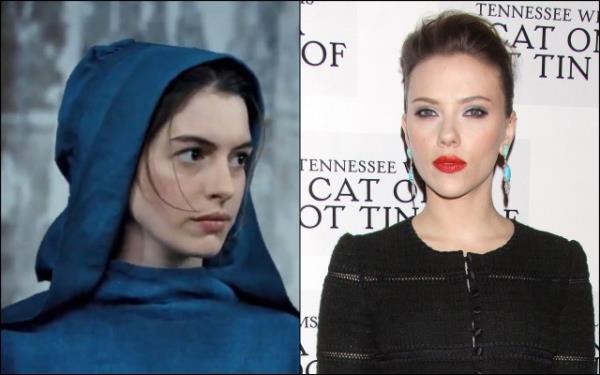 Every actor has a story of rejection. Did you know Angelina Jolie and Rachel McAdams were both considered for Jennifer Lawrence's Oscar-nominated role in "Silver Linings Playbook"? Or that Jessica Biel auditioned for McAdams's part opposite Ryan Gosling in "The Notebook"?
Now, Scarlett Johansson is opening up about her failed attempt to channel Fantine in "Les Miserables," a role that is expected to garner Anne Hathaway her first Oscar in less than two weeks.
In a sit-down with Broadway.com to talk about her current run as Maggie in "Cat in a Hot Tin Roof," ScarJo is questioned about reports she tried out for the tragic role.
"Yes, I did," she says. "I sang my little heart out."
When asked if it was "terrifying," the actress, who was originally rumored to have auditioned for Eponine, not the "I Dreamed a Dream"-belting Fantine, insists it was anything but.
"No, are you kidding? The jazz hands kid inside me was just over the moon!" gushes Johansson. "And I auditioned with laryngitis. I did everything I could to, like, not have laryngitis."
But Scarlett, who released an album of Tom Waits covers in 2008, has no regrets.
"I think looking at the film now, there's no possible way I ever could have topped that performance [by Hathaway]," she says. "It was perfect, and I think fateful and meant to be."
Besides, what she really wants to do is play Norma "I'm ready for my close-up" Desmond from the Billy Wilder-directed classic "Sunset Boulevard": "In any capacity," sighs Scarlett. "My dream role."
Check out ScarJo's warbling skills in the video for "Falling Down" ...