Ford ad features bound-and-gagged Kardashians
Leave your worries—and your good judgment—behind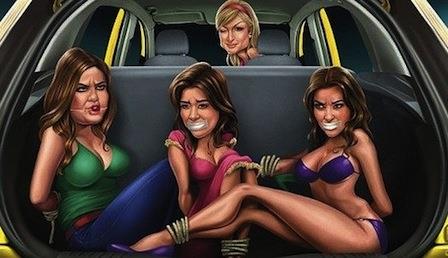 An animated print ad, depicting Kim, Khloe & Kourtney Kardashian bound and gagged in the trunk of a Ford Figo while Paris Hilton winks from the front seat, leaked online last week. Aimed the foreign market, a similar ad features former Italian Prime Minister Silvio Berlusconi with three women in bondage gear.
The campaign's slogan? "Leave your worries behind with Figo's extra-large boot." Forget Calgon and meditation. Who knew that the key to stress relief was a giant trunk for our junk?
The Figo is manufactured in India and isn't available in the US. And the mocked-up ads, created by the ad agency JWT India, weren't even intended for the Indian market, which begs the question: Who were they intended for? The serial killer demographic?
Last week, Ford apologized to CNBC, saying "We deeply regret this incident and agree with our agency partners that it should have never happened. The posters are contrary to the standards of professionalism and decency within Ford and our agency partners." While Ford issued an apology, the sisters Kardashian are exploring their legal options. According to E! News, their attorney calls the ads "disgusting, vile and offensive to all women."
Perhaps the biggest lesson of all is that no good can come from putting Paris Hilton and the Kardashians in the same place at the same time.
(photo: thehollywoodgossip.c​om)