Getting the Led in
Add John Bonham's drumming to any song you like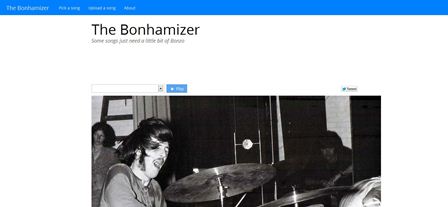 By Mark Brown
Special to MSN Entertainment
The late, great John Bonham, drummer for Led Zeppelin, has been gone for more than 32 years. So what's he doing playing on Adele's "Rolling in the Deep?"
He may rest in peace, but technology never does, be it Hologram Tupac or this: The Bonhamizer, a website that can add Bonzo's beats to nearly any song you want.
Granted, the technology is still a little shaky. If you want to try it you have to access the website using either Google Chrome or Safari; it's not set up yet to work with Internet Explorer or Firefox. But once you get there you can listen to what other people have done (including putting the Bonham touch on the aforementioned Adele song as well as tracks by Radiohead and fun.) or upload your own song and decide how you want it to sound.
MSN Music: Led Zeppelin's live and loud reunion | More on John Bonham
Several years ago Bonham's isolated drum tracks from the recording of the final Led Zeppelin album "In Through the Out Door" leaked on the Internet. Those raw tracks are what the creators used to pull together four different Bonham treatments
Give it a spin, but be warned: Not every song you try to Bonhamize works so well, and those that do often have their arrangements overpowered  by the sheer force of Bonham's drumming – which is likely making him very happy, wherever he is.