Amy Tan announces not one, but two all-new books
And the author already has one on the way soon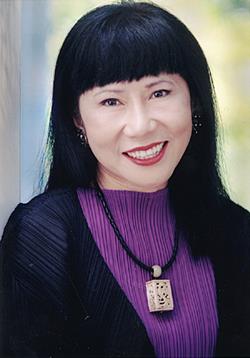 Author Amy Tan may have taken an eight-year hiatus from writing, but the "Joy Luck Club" writer is back, and seemingly with a creative vengeance! Ecco, an imprint of HarperCollins, already has Tan's latest novel, "The Valley of Amazement," slated to hit shelves in November, and the professional relationship between Tan and the imprint has gone so well that Ecco has now announced they are set to publish Tan's next two books.
The publisher announced the good news via press release, telling Tan fans that they will release the new books in 2014 and 2016. The first book is currently untitled and will be a book of essays that will hit shelves in the fall of 2014. A new novel, "The Memory of Desire," will then arrive in the fall of 2016.
In writing about the news (naturally), Tan shared, "Ecco is a dream publisher. I love the old-fashioned nurturing, the editorial care from intent to sentence. And I'm truly excited by the creative and fun ways they're doing publicity and marketing. I have a techy streak and it's a kick being involved with their plans. Naturally, I'm thrilled that we'll be working together on the next two books."
Tan also provided information about both of her newly announced books, writing that the essay collection is comprised of "personal essays on writing and the way my mind works – why I write, what I think about, what I wonder over, and the way my imagination gets released" and that the novel is "about a house in San Francisco and the battle for ownership among three families over the last seventy-five years. The narrator is an octogenarian who has had a stroke and finds she can speak only Chinese, the once-forgotten language of her childhood. She can now recall what she heard long ago, the source of the feud, and the reason her memory of it was removed. It's a story about motives, passion, and inherited desire."
Bing: More on 'The Valley of Amazement'
Are you excited for Tan's three new books from Ecco? Have you missed her writing?