Chromecast reinvents your TV for only 35 bucks
Google's new plug-in device makes streaming to the living room both easy and cheap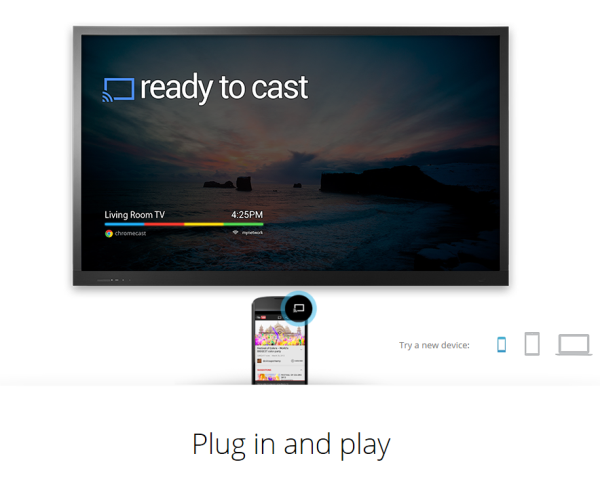 Google's big "mystery" announcement on Wednesday turned out to be something less than mysterious, especially when leaks early in the day revealed the Internet behemoth's plans to unveil its next-generation tablet, the Nexus 7.
For home entertainment enthusiasts, however, the most exciting development was the announcement of a 2-inch device that looks like a flash drive and is a significant step toward integrating televisions into a real cross-platform experience.
Enter the Google Chromecast.
Streaming Internet content over the living room TV has been a hit-or-miss proposition for many. Web-enabled DVD players work reasonably well with established services like Netflix or YouTube, but navigation with a remote control is akin to herding cats: a huge pain in the rear that yields lousy results. Devices like Apple TV and Roku have improved the experience, but simply getting a website to load (and finding your way around it) is maddening at best.
The Chromecast looks to simplify the experience for everyone, and if Google's presentation is a true indication of its capabilities, be ready to turn your TV from a dumb box into something much smarter.
It will sell for only $35 and will be available this afternoon from Amazon.com, BestBuy.com and the Google Play Store. Best Buy retail stores are expected to be stocking it by July 28.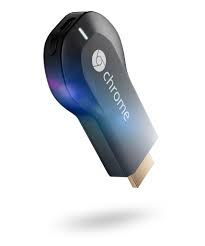 Plug the Chromecast into an HDMI slot on your TV, sync it with your Wi-Fi network and you're ready to go. And best of all: Put away that remote control, because you won't need it for Web content.
In a shining example of compatibility, the Chromecast will work with smartphones, tablets and laptops, whether they're Android, iOS or Chrome OS.
Say you want to watch videos with friends on the big screen. Open YouTube on your mobile device, press the "cast" button, select your TV's name in the network — and you're watching. While the video is playing on the TV, you can use the phone, tablet or laptop to search other videos and set them up in a queue. (You can also check email, tweet, update Facebook status, whatever, without disrupting what's playing, because the device connects via the cloud.) If you hook your friends into the network, they also can choose their own content to add to the queue.
Want to watch a movie from Netflix? It works the same way. Use the mobile app to choose your content, press "cast" and it's playing on the TV. It also works with Google Play Movies & TV, as well as music apps such as Google Play Music and Pandora. The company is in the beta stage on another feature that will allow casting of Web pages from Chrome in any PC, laptop or other device.
As for the Nexus 7: The new device, which will utilize Jelly Bean 4.3, the latest iteration of the Android OS, comes with significant improvements over last year's model. Probably the most intriguing is its resolution, as Google moves from 1280 x 800 to 1920 x 1200 true HD on a 7-inch device. It's a major upgrade that boosts its performance with a variety of media, including streaming movies and TV, games and books. Prices range from $229 for 16GB Wi-Fi to $349 for 32GB LTE, and it will be available retail on July 30.
With more online outlets for original content in the works and providers like Amazon and Netflix snapping up every bit of TV programming they can get for streaming, expect your TV set to undergo a major transformation. Chromecast is a small investment for taking a big next step in that direction.