Microsoft's set-top box service MSN TV is fading to black in September
It will be shut down as focus turns to Xbox One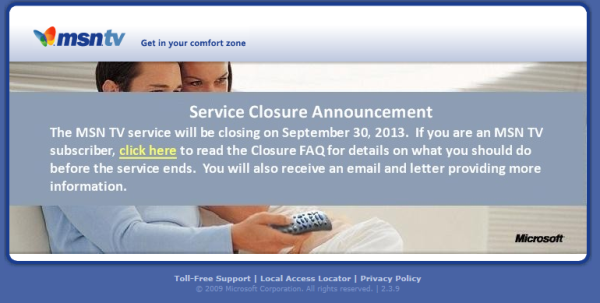 In a sign that the '90s finally may be over, another vestige of the dotcom era is coming to an end Sept. 30 when Microsoft shuts down MSN TV.
The service, which was ahead of its time when it debuted, offered Internet access over television sets. Known as WebTV when it was founded by Steve Perlman as a Silicon Valley startup in 1996, it was purchased for $425 million by Microsoft the next year. The company announced the impending end for MSN TV in an email to subscribers and a posting on its website.
WebTV allowed browsing and email over TV sets with full-size wireless keyboards. It never really caught on with consumers, although Microsoft poured resources into it, creating a division dedicated to developing television-based products. Among those, according to Perlman's bio at Rearden Companies, the incubator he founded after leaving WebTV in 1999, were "both of Microsoft's TV distribution platforms, Cable TV Foundation and (Mediaroom) IPTV, and the Xbox360 hardware," and the world's first digital video recorder, the Dishplayer satellite receiver on Dish Network.
In '99, Microsoft and Sega teamed to get WebTV on the Dreamcast game console, which led to the development of Windows CE, the operating system that formed the basis for the early iterations of the Xbox.  The company rebranded WebTV to MSN TV in 2001 to integrate it with other products.
But with Microsoft's focus turning toward the Xbox One, its controversial, take-over-all-your-h​ome-entertainment-op​tions console set to debut this fall, MSN TV has outlived its usefulness. In an FAQ posted on the MSN TV site, Microsoft said:
"WebTV (later called MSN TV) started in 1996 with the goal to bring new people 'online' and to give those already online an easy, hassle-free means of accessing the Internet from the comfort of their homes. Later, MSN TV 2 was released with vastly greater power and features. Since then, the Web has continued to evolve at a breathtaking pace, and there are many new ways to access the Internet. Accordingly, we have made the difficult decision to end the MSN TV service on September 30th, 2013. We are working with our customers to ensure the transition is as seamless as possible."
Those who still use the service should save photos they care about, Microsoft said, by converting them to Shared Photos and copying them to SkyDrive (you can get more information here). It urged all users to upgrade to Outlook.com, formerly Hotmail; MSN TV email addresses will continue to be available through Outlook. The company will continue customer service for MSN TV accounts through Jan. 15, 2014, and technical questions can be answered here.