Netflix rolls out My List
New feature sorts your queue by viewing habits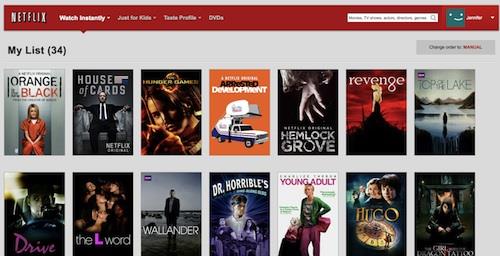 I'm not always the sharpest knife in the block. So I was a little confused when I saw that my Netflix queue was out of order. But this wasn't a bad thing.

While I didn't remember putting Dr. Horrible's Sing-Along Blog near the top of the list, I was reminded how I've always wanted to watch it and since I've been on a sick and twisted binge-watching kick (hello, Hemlock Grove!), it fit right into my current viewing sensibilities. As did Top of the Lake and Young Adult.

Then I discovered that I wasn't going crazy and that there wasn't a psychic trapped in my Netflix queue.

Nope, in addition to its recent deal with Miramax, today Netflix introduced My List, a nifty feature that uses algorithms for good, not evil. A smarter version of the Instant Queue, it automatically bumps up shows or movies you will actually watch. Go ahead, give it a try: add a bunch of titles to your queue and Netflix will sort your list, presenting you with the titles you're most likely to want to watch right up front. According to Netflix, during testing members found it much more useful than manually sorting an Instant Queue.

But wait, there's more! My List appears across all of your Netflix devices. Netflix has added further details to the titles. For example, TV series that have new seasons get a special tag. They'll also call out any titles on your List that won't be available for long due to an expiration of streaming rights (this feature is currently only available on the Netflix site but will be rolled out to other devices in the near future). International users, who didn't have the Instant Queue feature before, can now save streaming titles.

But never fear. If you're a control freak, you can change the order to "MANUAL" and go back to the queue that you never seem to get around to watching. Back when I used Netflix DVD delivery, I had Martha Marcy May Marlene for four months before finally throwing in the towel and returning it for the first season of Scandal, which I plowed through in short order.

Now, I need only to watch a couple of episodes of Scandal before My List surfaces all the soapy, delicious movies and series in my queue. Revenge, I'm looking at you.