Radiohead's Thom Yorke rips Spotify as a rip-off
He pulls his music and explains via Twitter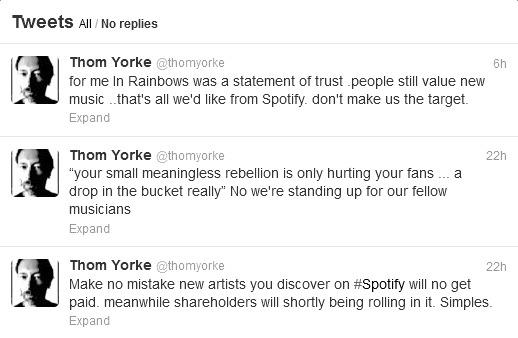 The Grateful Dead, Phish, Nine Inch Nails
and
Radiohead
all proved that you could attract a bigger following by giving away your music for free, either through crowd-taping or the Internet.
So why has Radiohead's
Thom Yorke
suddenly pulled all his and his side band's music from Spotify, where you can not only find new fans but you do actually get paid a royalty?
Because the pay is not enough, Yorke contends, and the artists are being ripped off.
Yet Radiohead's work - the stuff fans most want to hear - remains on Spotify, with "Creep" pulling in more than 21 million listens and "Karma Police" 14 million. Also, the "collectors editions" of Radiohead classics including "Kid A" and "The Bends" are still there as well, so fans can hear the bonus tracks without spending a penny. What's going on here?
Actually, it's the same as it ever was, dating back to the dawn of recorded music. The big companies make the money and the artist gets a pittance. Even in the peak of CDs and vinyl the superstar acts took home only a fraction of the money made through sales;
Wilco
famously took no royalties for "Being There" in order to make the double-disc set retail for the price of a single. At the time
Jeff Tweedy
merely shrugged, noting that the band didn't make a penny off of royalties anyway.
But online streaming has reopened the wounds for many acts;
Cracker/Camper Van Beethoven
founder
David Lowery
made some good points when he discovered that Pandora had streamed 1 million plays of Cracker material and he got paid a whopping $16.89 (if that royalty rate holds true for Radiohead, all those 21 million "Creep" plays netted them about $350 as songwriters). Regardless, Lowery's royalty wouldn't cover two months of Spotify unlimited service, which is about $10 a month (but free if listeners are willing to put up with ads).
According to The Onion's AV Club
, Sirius/XM satellite radio paid Lowery the best - nearly a dollar a play - while old-fashioned FM fell somewhere in between.
Radiohead producer
Nigel Godrich
jumped into the fray as well. Spotify's online catalog has leaped in the past few weeks, with the full catalogs from
Pink Floyd
and the
Eagles
being available for the first time.
But,
Godrich noted in The Guardian
, that music had already been paid for many times over.
"Making new recorded music needs funding. Some records can be made in a laptop, but some need musician[s] and skilled technicians. Pink Floyd's catalog has already generated billions of dollars for someone (not necessarily the band) so now putting it on a streaming site makes total sense. But if people had been listening to Spotify instead of buying records in 1973 I doubt very much if 'Dark Side [of the Moon,' Pink Floyd's record-breaking album released that year which sold hundreds of millions of copies] would have been made. It would just be too expensive."
Spotify insists it is going for the most artist-friendly experience possible - but those numbers are undeniably unfriendly.