RedBox now available for streaming
Got Roku? Get Redbox Instant by Verizon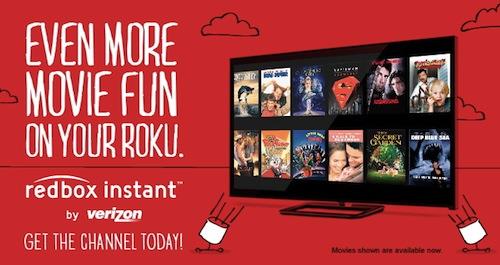 The only reason to go to 7-11 now is for a Big Gulp. RedBox Instant by Verizon is here and available for streaming…if you have a Roku player. Roku announced on their
blog
today that U.S. customers with a Roku Streaming Stick or conventional players like
Roku 3
or Roku HD will have access to more than 5,500 streaming movies and those 1,500-plus movies already stocked in Redbox kiosks.
The Redbox Instant by Verizon subscription is $8 per month (new customers can get a one-month free trial), making it competitive with other streaming services like Netflix and Hulu. The package includes:
5,500+ streaming movies and 1,500+ movies currently at Redbox kiosks
the ability to pinpoint and reserve movies and video games at more than 43,000 Redbox kiosks
Parental controls
Movie trailers and user reviews
Bookmarking to keep track of all movies discovered
Are you going to try Redbox Instant?