Ansel Elgort hasn't opened a movie yet, but he's already got three plum parts
Young star locks 'The Fault in Our Stars' role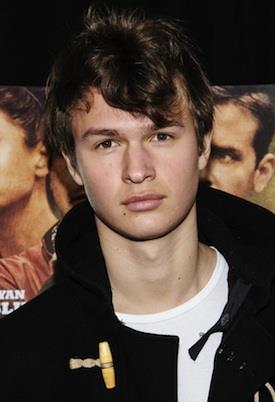 It's the sort of thing entertainment reporters and movie critics say quite a bit - "So-and-so is Hollywood's newest leading man! Meet Tinseltown's soon-to-be It Girl! This is a star-making role!"- but this time, it's really true. Young actor Ansel Elgort hasn't even opened a film yet, but he's already locked roles in
three
high profile projects. We will soon see Elgort as Tommy Ross in this autumn's "Carrie" remake, and he's currently filming a role in the highly anticipated "Divergent" big screen adaptation, but now Elgort has now lined up his most important role yet. 
EW
reports that Elgort has been offered the role of Augustus Waters in Josh Boone's Shailene Woodley-starring adaptation of beloved YA novel "The Fault in Our Stars." This news will certainly confound a few fans of YA fiction, as "Gus" is the essential love interest to Woodley's Hazel Grace Lancaster, and Elgort is poised to play Woodley's twin brother in that upcoming "Divergent" movie. Whoops?
No matter, however, as producer Wyck Godfrey tells the outlet, "We were all swept away by the humor, charm, and aching vulnerability Ansel brought to his portrayal of Gus. His performance completely annihilated our concerns about his playing Caleb in 'Divergent' with Shailene, and we are confident that the fans of 'Fault' will fall in love with him the same way that Hazel does–slowly, and then all at once." Boone added, "Ansel Elgort is the epitome of the boy John Green brought to life so vividly in his novel and he truly embodies the character traits we admire so much about Gus. His humor, sensitivity, honesty and confidence floored us. Watching him with Shailene was like seeing the film for the first time. Hearing then say okay to each other was incredibly moving. We couldn't be more thrilled to have found our Gus."
Woodley joined the project, a bestselling novel about a pair of teens with cancer who fall in love (and so much more) back in March. 
Still a bit skeptical about the casting? Author Green has been both quite hands-on and vocal about the adaptation of his book, and he actually took to his Tumblr to answer a fan who admitted to being "quite disappointed" in his casting choices. Green's responses were both illuminating and really just very astute. If only every author of a beloved book was this forthcoming about casting choices. Green says a lot of great stuff in his post, but when it comes to Elgort, he commented that his new star is "a huge fan of TFiOS (it is, in fact, his favorite book)...when he auditioned, he became Augustus. Watching him audition with Shailene, he was just Gus and she was just Hazel. He understood Gus, and clearly had a very deep and thoughtful relationship with the book."
Bing: More on 'The Fault in Our Stars'

But the topper? Perhaps the most succinct answer to any fan of any work that airs their "disappointment" so openly. Green responded, "Honestly, I'm a bit confused as to how you can dislike an actor whose work you have definitionally never seen, since his first movie isn't out yet." Yup, that'll do it.
"The Fault in Our Stars" should start filming in August and will open sometime in 2014.
Want more Movies? Be sure to like MSN Movies Facebook and follow MSN Movies Twitter.