Bad romance: the problem with modern love stories on screen
What women are told they want and why that's often a step in the wrong direction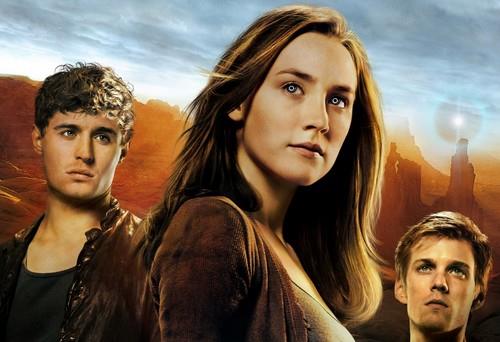 Spoilers for "The Host," "Temptation: Confessions of a Marriage Counselor" and "Safe Haven" to follow.
Two weeks ago, I sat down to watch two new releases back-to-back: "The Host" and "Temptation: Confessions of a Marriage Counselor." On the surface, each ended up with an oddly common theme in which the female protagonist is slapped across the face (in the former, repeatedly) as punishment for their traitorous deeds, but deeper down, each film reflected the seemingly perverted state of female wish fulfillment on screen.
With "The Host," author Stephenie Meyer repurposed "Body Snatchers" lore much as she had "Dracula" in her "Twilight" novels before that (the forbidden romance of "Romeo & Juliet" remains). An alien race invades, colonizing most humans and pacifying all but a small resistance. When Melanie (Saoirse Ronan) is nearly captured, she instead leaps to her death, only to be healed by the invaders and soon possessed by Wanderer (to be re-named "Wanda" because of course). Melanie rebels against Wanda from within her own mind, as conveyed through laughable arguments between the two souls, and she is cautiously accepted back into the resistance despite her apparent possession, for which she is hit time and time again.
Wouldn't you believe it, but Melanie and Wanda each wind up smitten with a different brooding hunk, and in the film's most misguided scene, each suitor is ordered by Wanda to take turns kissing Melanie's mouth until her spirit feels compelled to take control of her body once more. "Kiss me like you want to get slapped," she pleads in earnest, a line that's hilarious to hear, but the implications of which suggest a deeper romantic insecurity stemming from Meyer's reliably chaste values. ("How dreamy must getting double-teamed on the mouth be?! On, mind you, not in.") As you might imagine, an excuse is ultimately invented for Wanda to be extracted and get an unoccupied body of her own (Emily Browning) so that all are romantically matched, just as Jacob wound up with an overgrown infant lover to call his own once Bella flipped a coin and went with Edward instead.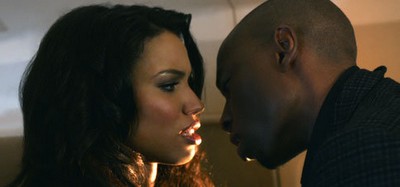 Now, let's put a pin in that passive protagonist and move on to Tyler Perry's latest, in which marriage counselor Judith (Jurnee Smollett-Bell) is tempted away from her own steady relationship with childhood sweetheart Brice (Lance Gross) into an affair with the rich, abusive Harley (Robbie Jones). Despite a decade of loyalty at home, Judith is sufficiently swayed because A) Brice has forgotten her birthday twice now, B) Harley introduces her to the concepts of non-missionary sex and extramarital cocaine, and C) Judith doesn't attend church in the big city like she used to when living with a pastor for a mother.
When Mom (Ella Joyce) does visit, she scolds her daughter for her absence from the faith, for not cooking proper meals for her husband (!) and ultimately for carrying on with another man. In a twist of fate worthy of the Old Testament, Harley has contracted HIV for all his promiscuity, meaning that Judith gets infected and abused for her indiscretions, and -- as we're shown -- left to enjoy a life of God-fearing solitude while Brice enjoys the company of his new family.
"The Host" has since gone on to flop pretty hard, only grossing $20 million domestic to date, a figure which "Temptation" topped in its opening weekend. (It's since doubled that, and at surely less than half of "The Host's" cost.) If each were the first film for its respective brand, neither would seem so sinister in suggesting to impressionable girls and women of all ages that their definition of wish fulfillment ought to consist of having to choose between two men, one of whom they will have to cook for, clean up after and slavishly support lest they contract a fatal illness for it. (Of course, if there's one thing to take away from "Safe Haven," the latest successful Nicholas Sparks adaptation, it's that nothing will save you from an abusive ex-husband quite like a matchmaking ghost.)
Call me cranky -- I'm not implying that we ought to stick strictly to shared milkshakes and sock hops in today's romances here -- but the recurring popularity of these books, plays and movies give the entertainment industry little reason to deviate from regressive fear-mongering and half-assed star-crossing rather than empowering these potential female icons into realizing a romance on their own terms for a change. To paraphrase one of last year's more agreeably earnest films, we as moviegoers accept the love stories we think we deserve.

While Perry's film plots are nothing more than small town gossip at 24 fps ,   Meyer's films focus too much on the beauty of love before they dwelve into the honesty of it.

Both series are meant for people who have quiet crushes turn into un-repressed fantasy.  Whereas Warm Bodies , with little dialogue from its protagonist , showed the akward perfectness of creating an intellectual relationship that could end any moment because you wonder if you're brilliant enough to match that equal or strong enough to protect them.

Cameron Crowe dug into his insecurity when writing about the struggle of young romance in Say Anything.  And because he went there , he was the friend who we would root for.   We not only want what they have , but we want the bravery they had while fighting to get it.


Are you sure you want to delete this comment?