Cannes Film Festival Review: 'Inside Llewyn Davis'
The Coen Brothers' latest film brings the '60s NYC folk scene back to life with a lot of love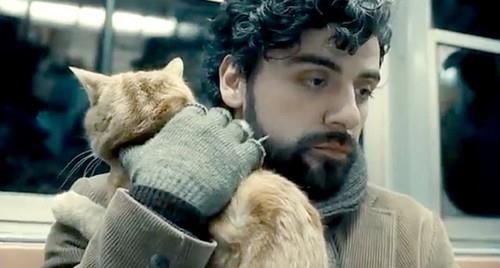 Rating: 4/5 stars
As major American filmmakers, the Coen Brothers -- Ethan and Joel -- have had their share of distinctly minor films, while others have earned a greater reputation following repeat viewings and prolonged consideration. To call "Inside Llewyn Davis" a minor work doesn't render it any less a pleasure to watch; it's to admit that the film's melancholy depiction of the '60s folk scene in Greenwich Village (and beyond) may only improve in the interim.
Specifically, it's 1961, a moment straddling the quaint '50s and the turmoil that would follow, and Llewyn Davis (Oscar Isaac) is similarly stuck between a few different rocks and a couple of hard places. His duet with a since-deceased partner hardly caught on; he's leaping from couch to couch, unwittingly loosing a friend's cat from one apartment and inadvertently knocking up one of his next two hosts, folk duo Jim (Justin Timberlake) and Jean (Carey Mulligan) -- I'll let you figure out which; his gigs at the Gaslight Cafe aren't exactly making ends meet; and his manager isn't doing him any favors with regards to getting him noticed.
And so Llewyn roves the streets between the Village and the Upper West Side, navigating the laughably narrow hallways of NYC apartments, subjected to the Coens' usual fondness for miscommunication ("Tell him Llewyn has the cat." "Llewyn is the cat?"), his hands full with gato in one and guitar in the other -- a way of living and a furry little life. He is surrounded by more pop than blues, resentful of those popular squares before counter-culture could have its day, hitting it big with novelty songs (one of which Isaac performs alongside Timberlake and a priceless Adam Driver) while Llewyn pours out his soul to an eternally modest reception.
As he stresses to his sister when she suggests considering other options, Llewyn believes that to not perform is to "just exist," a state of banality for which he clearly harbors no small resentment. As the Dude from "The Big Lebowski" was a man for his time and place, Llewyn is a man for his place, just before its time. He gets assaulted for heckling a green performer while generally acting wary towards the profit-minded priorities of the record industry. (Now would be a good time to note that the Coens followed up the highest-grossing hit to date, "True Grit," with an independent production rather than returning to the studio system.) Shades of Barton Fink's creative frustrations and Larry Gopnik's cosmic punishment come to mind, while the aforementioned feline is basically this film's Rug/Hat/CD Filled with Secret CIA S**t -- a motif whose elusiveness and significance go hand-in-hand.
Isaac ("Drive") has proven his vocal chops in earlier films, and he suits the dry wavelength of the brothers' humor rather well. Mulligan is quite good in a mostly distraught role, whereas Timberlake is effectively strait-laced during his few scenes. Coen standby John Goodman gets to steal a scene or two as a dismissive jazz musician, while Garrett Hedlund all but blends into the scenery as his driver. Many get to sing lovely original songs and classic folk standards produced by T-Bone Burnett ("O Brother, Where Art Thou?"), and all appear in shots by which cinematographer Bruno Delbonnel ("Harry Potter and the Order of the Phoenix") frequently evokes the cool remove of Edward Hopper's paintings in particular.
That cool remove suits an especially harsh winter, but our hero's hope for artistic validation springs eternal; it's no wonder his nigh-hit single was the aptly wistful "If We Had Wings." Isaac doesn't make Llewyn entirely pitiable, given how many of his troubles he's brought on himself, but when he's not railing against the world, he's singing out to it, a genuine talent whose chief problem happens to be other people. Maybe the Coens can relate to that dilemma, to which I say: Encore, fellas. Encore.
CBS Films plans to open "Inside Llewyn Davis" in the U.S. this December.
Our coverage of the 2013 Cannes Film Festival will run from May 15th-25th. For current updates, follow William Goss on Twitter, and for more movie news, follow MSN Movies on Facebook and Twitter.