Cannes Film Festival Review: 'The Bling Ring'
Sofia Coppola takes on the kid crooks who both exploited and embraced tabloid culture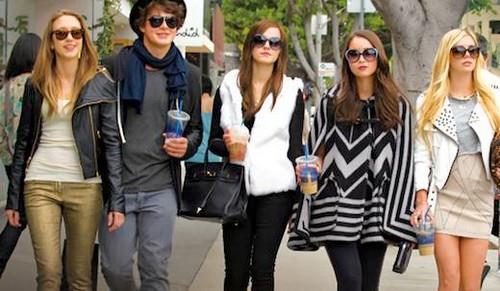 Rating: 3.5/5 stars
In 2008 and 2009, a group of L.A. teens used their Internet savvy to determine where celebrities lived, when they'd be out of town (as well-documented by tabloid sites and the like) and how best to help themselves to more than $3 million worth of designer clothes, goods and cash, with their victims either unaware of the burglaries or unwilling to report the break-ins. What's more, their eventual capture would only result in the type of arbitrary celebrity status that their own glamorous role models enjoyed.
It's a fascinating story that encapsulates today's entitled youth culture, online transparency and do-anything desire for attention, one which namely resulted in a 2010 feature in Vanity Fair (brilliantly titled "The Suspects Wore Louboutins") and, now, a film in the form of Sofia Coppola's "The Bling Ring," which doesn't explore the who's and why's of the scenario so much as the how's and why-not's.
Framed by post-arrest depositions from the marginally remorseful suspects, Coppola's take introduces us to Marc (Israel Broussard), a newcomer to Indian Hills High School who quickly takes up with the coolly indifferent Rebecca (Katie Chang) and her clique of fashion-minded wannabes. He hardly prevents her from raiding unlocked cars and a classmate's unattended home, so once he's enlisted to look up Paris Hilton's home address, Marc doesn't hesitate to help Rebecca break in.
Of course, it isn't just Rebecca, but Nicki (Emma Watson), her adopted sister Sam (Taissa Farmiga) and mutual friend Chloe (Claire Julien) who want in on the action; and it isn't just Paris Hilton whose home and belongings they help themselves to, but Orlando Bloom, Rachel Bilson, Megan Fox, Lindsay Lohan and Audrina Patridge as well. They boast about their crimes at parties, post pictures of evidence to Facebook -- after all, what's the point of stealing the hottest name brands if you're not going to flaunt them? Each home in which these BFFs commit B-and-E is chock full of reflections, whether through literal mirrors, framed magazine covers or designer wear that should really say it all at the end of the day. (One character only becomes the spitting image of her idols once she lands a DUI and lives to shrug off the tale.)
On the surface, the story fits easily into Coppola's recently established pantheon of poor little rich kids ("Marie Antoinette," "Somewhere"), as this gang couldn't be farther from the quiet insecurities of "The Virgin Suicides" and "Lost in Translation." However, "on the surface" is the very matter that keeps "The Bling Ring" from joining the ranks of the latter. Even at its sharpest moments, this fleet film carries all the weight of a re-enactment (Paris Hilton, who has a cameo, allowed her own house to double for itself here) without proving to be any more incisive than the original events themselves were.  Coppola doesn't necessarily empathize with these fame-craving crooks as she had with prior characters, but given how devoid they appeared to be of their own emotional awakening, she is subsequently saddled with a perfectly vapid ensemble whose looting sprees rival the mid-life ennui of her earlier films.
As far as motive is concerned, Marc just wanted to fit in and went about it the wrong way, forcing the story into the set path of so many other true-life 
crime-and-punishment​
 tales before, only with the added irony of our celeb-worshippers being themselves honored by the ill-justified media spotlight -- a factor only magnified by having their own feature film. That isn't to say that "The Bling Ring" is without enjoyment. When a detective informs Rebecca that he's spoken with all the victims, she earnestly asks what Lindsay had to say. Watson stands out given Nicki's especially artificial persona (when addressing the media, she flippantly claims that "I might want to be the leader of a country someday, for all I know") and as the film's most prominent parental figure -- they are few and far between -- Leslie Mann reveals the all-pills, no-punishment parentage that could have very feasibly resulted in a generation this deeply apathetic towards accountability and consequence (not that I'm in any hurry to weep for half a dozen victimized multi-millionaires myself).
Coppola's most striking flourish sees the camera slowly pushing in on one robbery as it unfolds in real time, with two silhouettes dashing about an empty home against the glistening backdrop of an unaware, perhaps indifferent, mecca of stardom. This specific night will ultimately be the heist for which they'll get caught; the real crime, though, would have been not getting noticed at all.

Our coverage of the 2013 Cannes Film Festival will run from May 15th-25th. For current updates, follow William Goss on Twitter, and for more movie news, follow MSN Movies on Facebook and Twitter.