Cannes Film Festival unveils lineup packed with familiar names like Soderbergh, Coen, Polanski, and more
And also James Franco, because of course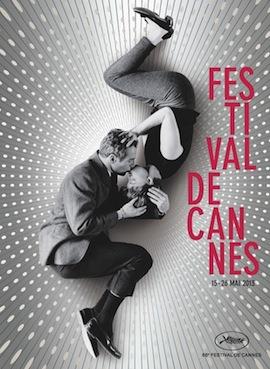 Cinephiles everywhere rejoiced yesterday with the announcement of the Cannes Film Festival's 2013 feature lineup, a murderers' row of supreme cinematic talents that will likely help color this year's awards season (yes, yes, we do realize we've just barely gotten out of the woods on the 2012 awards season). As had been previously announced, Baz Luhrmann's "The Great Gatsby" will open the festival (despite the fact that the film will open in theaters pre-festival), but yesterday's announcement almost makes up for that somewhat disappointing opener, as it's positively crammed with titles to get excited about.
The list of in-competition films isn't very surprising - it's rounded out by such expected fare as Nicolas Winding-Refn's "Only God Forgives," Alexander Payne's "Nebraska," and Joel and Ethan Coen's "Inside Llewyn Davis." Expected, of course, doesn't mean disappointing, as these are the exact titles that should be bowing at Cannes. Other titles of note in competition include James Gray's "The Immigrant" and Asghar Farhadi's "A Separation" follow-up, "The Past." One slight surprise is the inclusion of Steven Soderbergh's Liberace biopic, "Behind the Candelabra," which will premiere later this spring on HBO. That's right, a TV movie. Granted, a TV movie directed by Soderbergh and starring Michael Douglas and Matt Damon, but a TV movie nonetheless.
The fest's Un Certain Regard section is equally as compelling, as it includes such fare as Sofia Coppola's "The Bling Ring," Ryan Coogler's Sundance darling "Fruitvale," and Claire Denis' "The Bastards." Finally, James Franco's "As I Lay Dying" will also show in the Un Certain Regard section; the multi-hyphenate's adaptation of the William Faulkner novel is reportedly still filming. That Franco.
Check out the full list of this year's Cannes feature films, thanks to the festival, after the break.
Opening Film: The Great Gatsby, dir: Baz Luhrmann

Closing Film: Zulu, dir: Jérôme Salle
Competition Titles
Only God Forgives, dir: Nicolas Winding-Refn
La Grande Bellezza, dir: Paolo Sorrentino
Behind The Candelabra, Steven Soderbergh
The Immigrant, dir: James Gray
Venus In Fur, dir: Roman Polanski
Straw Shield, dir: Takashi Miike
Nebraska, dir: Alexander Payne
Jeune Et Jolie, dir: Francois Ozon
The Past, dir: Asghar Farhadi
Inside Llewyn Davis, dir: Joel & Ethan Coen
Jimmy P., dir: Arnaud Desplechin
Heli, dir: Amat Escalante
Grisgris, dir: Mahamat-Saleh Haroun
Like Father Like Son, dir: Hirokazu Kore-Eda
La Vie D'Adèle, dir: Abdellatif Kechiche
Borgman, dir: Alex Vann Warmerdam
A Touch Of Sin, dir: Zhangke Jia
Michael Kohlhaas, dir: Arnaud Despallières
Un Château En Italie, dir: Valeria Bruni-Tedeschi
Out of Competition Titles
Blood Ties, dir: Guillaume Canet
All Is Lost, dir: J.C. Chandor
Un Certain Regard Titles
The Bling Ring, dir: Sofia Coppola (Opening film)
Omar, dir: Hany Abu-Assad
Death March, dir: Adolfo Alix, Jr
Fruitvale: dir: Ryan Coogler*
The Bastards, dir: Claire Denis
Norte, Hangganan Ng Kasaysayan, dir: Lav Diaz
As I Lay Dying, dir: James Franco
Miele, dir: Valeria Golino*
L'Inconnu Du Lac, dir: Alain Guiraudie
Bends, dir: Flora Lau*
L'Image Manquante, dir: Rithy Panh
La Jaula De Oro, dir: Diego Quemada-Diez*
Anonymous, dir: Mohammad Rasoulof
Sarah Préfère La Course, dir: Chloé Robichaud*
Grand Central, dir: Rebecca Zlotowski
Midnight Screenings
Blind Detective, dir: Johnnie To
Monsoon Shootout, dir: Amit Kumar*
Homage To Jerry Lewis
Max Rose, dir: Daniel Noah
Special Screenings
Seduced And Abandoned, dir: James Toback
Weekend Of A Champion, dir: Roman Polanski
Muhammad Ali's Greatest Fight, dir: Stephen Frears
Stop The Pounding Heart, dir: Roberto Minervini
Bite The Dust, dir: Taisia Igumentseva (Cinéfondation)*
Gala Screening in honor of India
Bombay Talkies, dirs: Anurag Kashyap, Dibakar Banerjee, Zoya Akhtar, Karan Johar
*Debut features that will compete for the Camera d'Or prize
The Cannes Film Festival runs from May 15 to May 26 in Cannes, France.