Ericson Core to direct 'Point Break' remake
Wait, they're remaking 'Point Break?'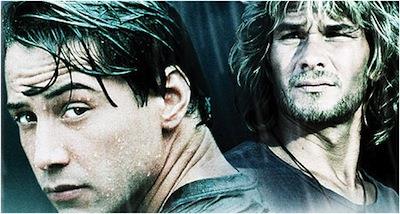 Before you angrily ask how and why anyone would dare remake "Point Break," the Kathryn Bigelow-directed Keanu Reeves classic co-starring the late Patrick Swayze, consider this: according to
Deadline
, Alcon Entertainment—the production company evidently behind this future travesty—has hired "Invincible" director Ericson Core to direct the forthcoming film... So... With that in mind, why would anyone remake "Point Break?"
The remake—should it ultimately happen, if it's production isn't banned by Executive Order or Papal Decree in the meantime—will be based upon a script by Kurt Wimmer ("Salt," "Law Abiding Citizen"). The premise will remain the same: set amidst the world of "extreme sports," an FBI agent will go undercover to infiltrate a gang of violent criminals. Sounds stupid, we know, but if you haven't seen the original... Just turn to any channel on basic cable right now, there's a 50% chance it'll be on. You won't be disappointed. Truly, it's the "Citizen Kane" of, um, early 90's Keanu Reeves action movies. 
What do you think, Hitlisters? Outraged that anyone would dare besmirch the memory of the late Swayze by perpetrating this disaster? Intrigued as to how they could possibly replicate the unforgettable bromance between him and Keanu Reeves? Wondering what Kathryn Bigelow thinks of all this? As always, let us know in the comments, or on MSN Movies 
Facebook
 and MSN Movies 
Twitter
.