Interview: Juno Temple gets a little out of control in 'The Brass Teapot'
This dark comedy makes us all ponder how far we'd go for an "easy" buck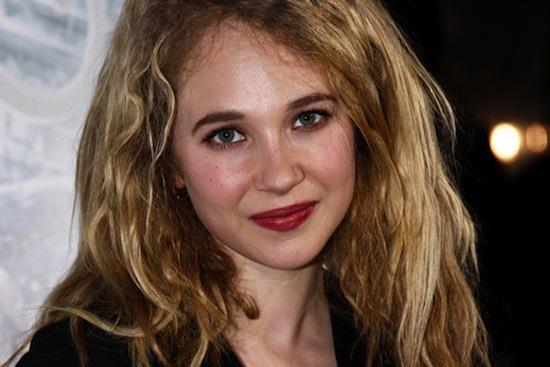 What would you do if you found a magic teapot that was the answer to all of your financial woes? When a young couple (Juno Temple and Michael Angarano) find a magical brass teapot, they soon realize it's a ticket to untold riches. But there's a catch—the mysterious teapot only produces money when its owners inflict real pain on themselves…or others! What to do? Will our broke very-much-in-love couple be able to get themselves out of debt without letting the teapot wreck their lives? Ramaa Mosley's first feature is as entertaining as it is original, and will have you thinking about what you'd do in that situation long after you leave the theater! "The Brass Teapot" also stars Alexis Bledel, Alia Shawkat, Bobby Moynihan, and Debra Monk.
I've been a fan of 23-year-old Juno Temple's since she was a young girl in movies like "Notes on a Scandal" and "Atonement." While an indie favorite (three of her upcoming movies recently premiered at Sundance including Jill Soloway's "Afternoon Delight and Sebastian Silva's "Magic Magic"), she also pops up in big studio films such as "The Other Boleyn Girl," "The Dark Knight Rises," and the upcoming "Maleficent" opposite Angelina Jolie and Elle Fanning. I talked to the British actress in Los Angeles.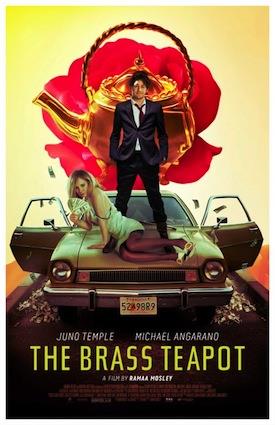 MSN Movies: I think I'd get into a whole lot of trouble if I found that teapot but I'm not so worried about you. I remember when we talked last year about "Little Birds," you mentioned that you just needed enough money for a pack of smokes and some occasional thrift-store shopping!
Juno Temple: (Laughs.) I still feel that way, I really do! It was a really fun exploration for me to play this character but she was more complicated for me to relate to because I've never been a girl who wanted the biggest house on the block or who felt like she was a failure because she couldn't afford to eat at the poshest restaurant in town! What I really enjoyed discovering with her was this kind of desperation she was feeling. It may have been a little shallow but I was fascinated by that and how she was reaching out for something. And then this mystical thing falls into her lap and it becomes like a drug, like this crazy addiction, and she gets lost in it. 
It's such an interesting set-up, and such a great metaphor for what so many of us struggle with all the time.
Yeah, and the message is so clear: money doesn't make you happy even though we sometimes thing it might!
So, as I asked you last year, do your agents wring their hands when you sign on to these much smaller films compared to the big blockbusters that you could be doing more frequently?
You know, I do projects that I really care about. I hope I'll stand by that until the day I die! There will always be ways to pay my rent, whether I wind up having to be a waitress on the side or whatever it is, but I think it's so important for me to do things that I'm passionate about. I never want to sell my soul for something I don't believe in. Because guess what? Somebody somewhere in the world would have believed in that part and should be playing it—who am I to not allow that person that opportunity? But that's the gorgeous thing about this industry, there are a million different kinds of roles—sometimes it's not going to go your way but that always happens for a reason.
I guess the "brass teapot" in your industry is getting offered something you're not interested in at all but that comes with a huge payday. I know some actors will take those projects just to support their work in smaller films that might not make them any money.
Yes, but it's not always either/or. I've been involved with some huge studio projects that have been bloody awesome. It all starts with a great script, doesn't it? And the director is so key, you form a relationship with that man or woman who's going to guide you through that particular journey. As far as the big studio films go, of course I'm interested, of course I love being part of those, too. They're different processes. With an independent film, everything's so quick, you have to bang it out, sometimes in just a few weeks, so you have to be so prepared from the minute you walk onto that set—you may be doing six scenes a day and you have to know exactly what's going on in each one! With a studio film, in my experience, I've normally shot them over three months and I've done ten days over that time so my challenge there is to keep that character a part of me for that period of time. I think both of these are very good lessons for an actor.
When we spoke last time you were in the middle of shooting "Afternoon Delight" for Jill Soloway. Jill was a first-time director, as was Elgin James on "Little Birds" and Ramaa Mosley with this film. Is there something about working with first-time directors that you really like?
I think they're the crazy ones who are willing to give me a chance!
Yeah, right! Tell that to William Friedkin who cast you in "Killer Joe!" When you're working with a first-time director, how do you evaluate if they have what it takes?
I can't! I don't have the power to do that—I think they're taking a risk on me and I'm taking a risk on them. But it's all about an understanding and a personal connection, and it's a risk well worth taking if you love the script. It goes both ways. Maybe they cast me and then think, "Oh shit, we should have gone with that other person!"
No director has ever thought that!
Thank you! But that's part of what I like about it—that exciting feeling of "Let's collaborate! Let's fucking do it!"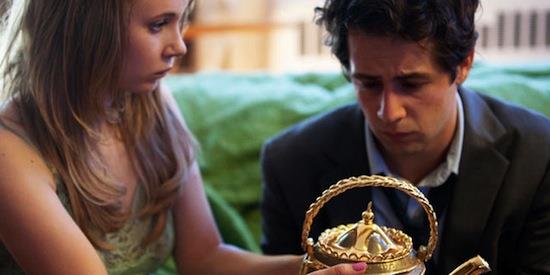 Did you and Ramaa always see eye-to-eye on the character?
Ramaa's take was a little lighter than mine was at first. I saw the teapot as this addiction and a very dark thing. But Ramaa nailed it, she had such a strong vision. I think the comedy and the whimsical side of the film really keeps the audience enraptured with the story instead of just shoving it down their throats.
In a weird way, this is one of your more "normal" roles and a very sweet depiction of a marriage.
Yes, ultimately it's a love story. A story that has a bomb fall onto this relationship and they have to find each other again! Ramaa helped me find light in it and I think that's why the movie works so brilliantly. It's like a grown-up fairy tale. People can learn a lot through laughter. I love the idea of reminding people to look at what's right in front of them because otherwise they could miss some of the best things in life!
When you make these smaller indie films, do you worry about them getting out there and seen by audiences?
Sure. On "Little Birds," for example, it broke my heart that it didn't get seen by a wider audience but I'm so grateful for the relationships I made on that movie—Elgin is like family to me now. And the people I've spoken to who've seen the film have been really moved by it, I've had amazing things said to me about that film and this one as well. The truth is, I have no interest in being a "movie star," I want to be an actress. I want to be doing this, making interesting films that I'm passionate about when I'm 90!
"The Brass Teapot" is playing in select theaters. Director Ramaa Moseley will be doing Q&As following the screenings at the Sundance Sunset Theaters in Los Angeles on Friday, April 5 at 8:00 pm, Saturday, April 6 at 8:00 pm, and Sunday, April 7 at 12:30 pm and 8:00 pm.