Interview: Talking to the director and cast of 'Oblivion'
Morgan Freeman, Andrea Riseborough, and Olga Kurylenko were mesmerized by the futuristic film's stunning visuals and special effects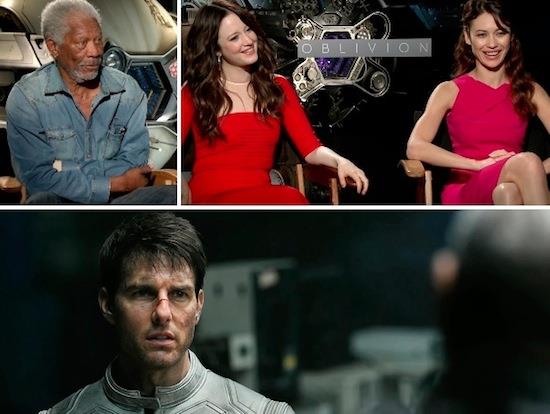 In the year 2077, Jack Harper (Tom Cruise) is a security repairman stationed on an evacuated Earth. He and Victoria "Vika" Olsen (Andrea Riseborough) are monitoring a massive operation that is extracting vital resources from Earth's oceans after decades of war with a menacing alien threat that is still scavenging what's left of the planet. After a long stay in their skytower thousands of feet above the surface, Jack and Vika's mission is almost complete. In two weeks they'll be joining the remaining survivors from Earth on a Saturn moon colony far from the war-torn world they have long called home. But their departure plans take a dramatic turn when Jack rescues a stranger, Julia Rusakova (Olga Kurylenko), from a downed spacecraft. Drawn to each other through a connection that transcends logic, Julia's arrival triggers a chain of events that forces Jack to question everything he thought he knew. It also leads to his encounter with Beech (Morgan Freeman), the leader of a hardscrabble band of survivors on Earth who are highly suspicious of Jack's motives.  
I had a chance to talk to Morgan Freeman, Andrea Riseborough, Olga Kurylenko, and director Joselph Kosinski about their experiences making this constantly surprising post-apocalyptic thriller. The small but stellar cast also includes Melissa Leo and Nikolaj Coster-Waldau. When I talked to them, we were surrounded by some of the actual full-sized futuristic vehicles and props from this gorgeous film—it was all I could do to not sprint over their heads and start playing with these amazing artifacts! Check out the interview after the break.
"Oblivion" opens in regular and IMAX theaters on April 19, 2013.