Interview: The cast of Todd Phillips' 'The Hangover, Part III'
The Wolfpack is back for one last adventure in mayhem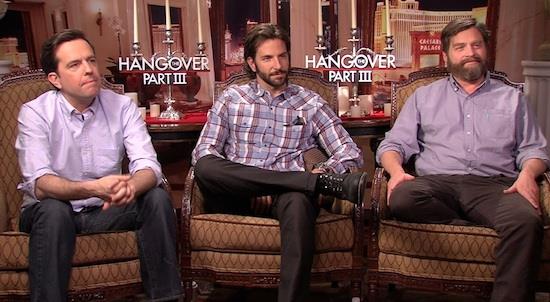 It was strange being at Caesar's Palace to talk to cast members of "The Hangover, Part III." When the first "Hangover" movie premiered in June 2009, nobody had ever heard of the Wolfpack or witnessed the crazy antics of Phil (Bradley Cooper), Stuart (Ed Helms), and Alan (Zach Galifianakis). Much of the action of the first film took place at that luxury hotel on the Las Vegas Strip. The next film in the trilogy bypassed Las Vegas for Thailand where the gang, accompanied by the hapless Doug (Justin Bartha) and the lunatic Leslie Chow (Ken Jeong), got into major trouble yet again. In the third and final film in writer/director Todd Phillip's raunchy trilogy, "The Hangover, Part III," the Wolfpack returns to Caesars's Palace for an appropriately raucous conclusion. But these days, the real Caesar's Palace is full of signs of the series' success: movie-themed slot machines, Wolfpack t-shirts and visors, whole souvenir shops dedicated to the films' outrageous shenanigans. Not to mention the groan-producing tourists who daily ask at the front desk, "This isn't the real Caesar's Palace, is it?"

Bing: Bradley Cooper | Ed Helms | Zach Galifianakis
The first two films in the franchise have already earned more than a billion dollars worldwide. The new critic-proof film promises to add significantly to that jackpot. I spoke with several of the film's stars, including Heather Graham who played Jade, the sweet stripper who was briefly married to Stu in the first film and is back to bid her old buddies a fond farewell. In the new film, Phil, Stu, and Doug hold an intervention for struggling Alan, who finally agrees to go to rehab only if his friends drive him there. But, oops, the guys don't quite make it to their intended destination. Leslie Chow has escaped from prison in Bangkok and some shady dealings he had with a notorious mobster (John Goodman) set events in motion that cause our friends to make a madcap detour to Sin City where they end up at their old Caesar's Palace haunting grounds.
Since it's the final outing, I asked the cast what they'll miss most about playing these characters. You can see their answers (after the break) including Heather Graham's interesting speculation on how Jade may find financial success in the years to come.
"The Hangover, Part III" is currently in theaters nationwide. For more movie news, follow MSN Movies on Facebook and Twitter.