Interview: Tony Shalhoub of 'Pain & Gain'
'I had to go back and check ... verify: "Oh my God, how could this possibly have been true?"'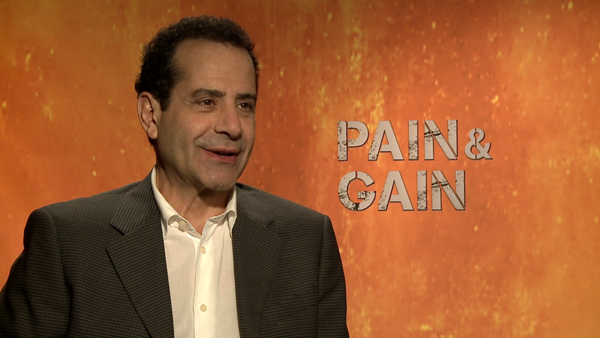 With his eyes narrowed to a rat-like avaricious squint -- and a Rasputin-like capacity for taking a licking and keeping on ticking -- Victor Kershaw is the kidnapped victim whose abduction at the meaty, meatheaded hands of three bodybuilders kicks of Michael Bay's "Pain and Gain." victor's a churlish, curdled horrible human -- which means he couldn't be any more different from Tony Shaloub, the actor playing him. Versatile on screens big and small, Shaloub's resume varies from small gems like "Big Night" to cult classics like "Galaxy Quest" -- and "Pain and Gain" is just the latest laurel to his name. We spoke with Shaloub in Miami about the line between truth and plausibility, sweatbands, and working with his scene-stealing co-stars ...
MSN Movies: When you read this script ... there are two questions I have. One is, did you know this was a true story -- and were you just shaking your head at the ridiculousness of it all despite it being the truth?
Tony Shalhoub: Well, I hadn't read the articles before reading the script. It says on the title page that it is a true story. But then as I was in the middle of the script, I kind of had to go back and check that title page again and just verify: "Oh my God, how could this possibly have been true?" Then I had my meetings with the director, with Michael, and I asked him some questions about certain details along the way. Absolutely that happened. And that's what we wanted to bring to light.
When you're reading the script ... this movie is shot with such a crazy, squirrely energy. Is there any hint to that on the page? Or is it just waiting to see what Mr. Bay's going to do with it?
No. I mean there's a hint of it on the page, but you can't, even after having shot the movie, I didn't really realize the kind of, the energy that would be infused in the cutting. And when I finally got to see it a couple weeks ago I was just floored at how much storytelling and how much energy he jams into this movie. It's pretty exciting.
Is working with him unlike working with any other director? You've worked with some tremendous directors.

Yeah. I've been so fortunate and worked with great, great directors but no one that shoots like Michael. I mean it's a whole 'nother experience.
When you're making a film like this, do you have to put the fact that these horrible things happened to an actual human being out of your mind so you can find the gloss to it? Not the laughs, but even making it entertaining as opposed to deeply depressing and sad.
You know, that's not really my job. I mean, I think my job is to try to be true to what's on the page and let the circumstance and the story and the absurdity speak for itself. I try to approach this character very realistically, given an unbelievable amount of makeup, and the beatings I took. But yeah, no, I'm not thinking about comedy when I'm playing it. I'm just thinking about the truth of it trusting that the laughs are going to be there because of the situation.
On the last day you had to wear your sweatband, did you give a sigh of relief that you didn't have to put it on anymore?
Yes, yes. I was reminded how in all the times in my life when I've tried to wear sweatbands and it just was a very unsuccessful look for me.
Constricts your head, and you feel weird ...
You just kind of get pressure in your temples, and then also it makes your hair look bad. And to me, it never really did anything for absorbing any kind of sweat. So it all seemed like an affectation to me.
A fashion statement that doesn't have much to say.
(Laughs) Exactly.
When you're working in the scene with Mr. Wahlberg and Mr. Johnson, both whom are these talented, charismatic guys, how good is it to run scenes with them to see where the script was going to go?
It's endlessly fun and fascinating and educational. They're always surprising themselves, I think and the people around them. And I think that's one of the strengths of this movie, too. The audience is going to be able to see all these actors doing something they normally don't get a chance to do.
For more on ""Pain and Gain," watch our video interview with the cast.
Want more Movies? Be sure to like MSN Movies Facebook and follow MSN Movies Twitter.
Are you sure you want to delete this comment?